New Year in Sydney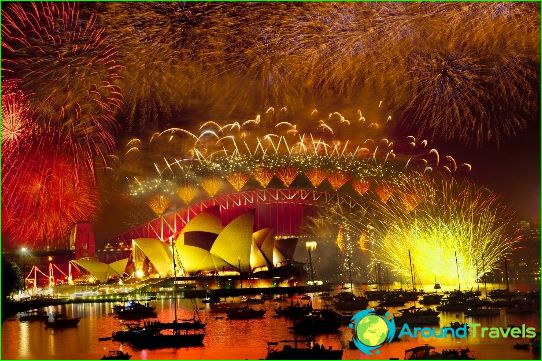 Australia's largest city, Sydney is renowned for its gorgeous views, world-class attractions, great climate and New Year's Eve ... in the middle of summer. However, the same picture is observed in all cities and towns of the Southern Hemisphere, where December 31 is the middle of summer with all the ensuing consequences. So to celebrate the New Year in Sydney means to plunge into the atmosphere of the warm sea, hot sun, flowers, fruits and universal love..
Bridge to a new life
Sydney hosts world-class events on New Year's Eve. One of the most spectacular is the midnight fireworks show over the Sydney Harbor Bridge. This fishnet bridge across Port Jackson Bay is a big attraction in itself. Firstly, its shape gave the locals the right to call the bridge a hanger, and secondly, the structure is one of the largest arched crossings in the world, made of steel.
The first New Year's fireworks display over the Sydney Bridge graced the sky in 1996 and has since become an annual event. The pyrotechnic show symbolizes renewal and entry into a new stage of life, and therefore thousands of guests strive to see the fireworks every year. Going to celebrate the New Year in Sydney, it is important to remember that it is still worth taking places on the lawn in front of the bridge during the day, because by night there is nowhere to even squeeze.
And from above you can see everything...
The second tallest observation tower in the Southern Hemisphere is Sydney. Observation platforms are open in it, and the tower itself is one of the most popular city attractions. On holidays, its illumination becomes part of the solemn city illumination, and at a 250-meter height there is a restaurant where 220 people can order a festive dinner at the same time.
Photos of New Years Celebration in Sydney