Islands of Australia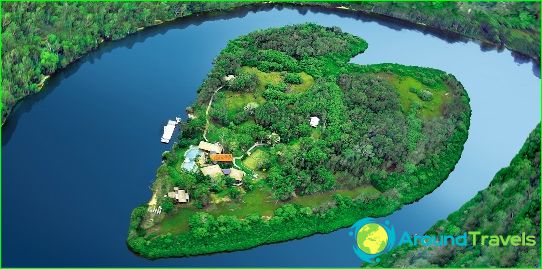 Australia occupies a vast territory in the Southern Hemisphere, making it the sixth largest country in the world. There are many island formations within its domains. The state is spread over the continent of the same name, islands and has several external territories. The islands of Australia are washed by the Pacific and Indian Oceans.
Popular islands in Australia
The island of Heron, located on the reef, is perfectly adapted for tourist visits. The shade of the reef changes throughout the day. In the period from May to mid-autumn, the average air temperature on the island is +29 degrees. You can get to this amazing piece of land from Gladstone by helicopter or boat. Dunk Island is famous for its unique landscapes. It is located in the coral sea and is completely covered in tropical jungle. This island has its own airport where flights from Cairns arrive. Hamilton is considered one of the best islands in the Pacific Ocean formation of Whitsunday. There are white sand beaches and tropical plants. Hayman Island belongs to the list of the world's best resorts. This is a prestigious vacation spot where wealthy young people prefer to relax..
The main attraction of the country is the Great Barrier Reef, which stretches along its eastern eastern coast. It is included in the list of UN World Heritage Sites. The Great Barrier Reef is known for its picturesque resort islands and coral reefs. It forms the largest reef system on the planet, created by living organisms. The reef is almost continuous in the north. At this point, it is only 50 km away from the coast. its southern part splits into separate reef groups. Hundreds of islands rise above the water, but only about 20 land areas are inhabited. Such islands of Australia as Fitzroy, Daedrim, Orpheus, Green Island, Hamilton, etc. are considered interesting for tourists..
The island of Tasmania is located near the southern coast of the country. Its area is approximately 68 thousand square meters. km. It is known for its mild climate, rich underwater world and picturesque nature. The main city of the island is Hobart. It is the most sparsely populated and southern capital of the planet..
Weather
The climate of Australia is greatly influenced by ocean currents. In the north of the country, a tropical climate prevails. There is a lot of precipitation in the summer. It rarely rains in May and September. There are semi-deserts and deserts on the territory of the state. Southwest Australia is a Mediterranean climate zone. The island of Tasmania and the southeastern regions of the mainland are in the area of ​​influence of the temperate climate.
Photos