Season in Australia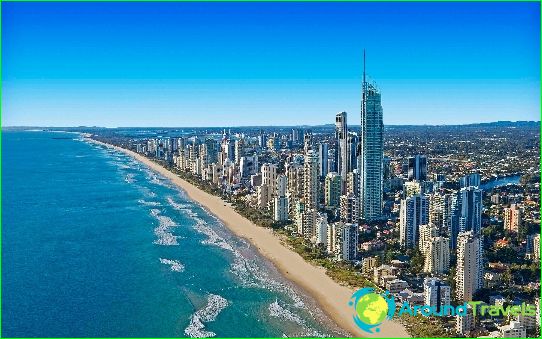 The holiday season in Australia lasts the whole year: it all depends on what goals you set for yourself on vacation and which regions you prefer to visit.
Tourist season in Australia
May-October is considered the dry season - this time can be devoted to visiting Darwin's street markets. In addition, various festivals are held during this period..
The rainy season is typical for December-March - during this time it is worth visiting the Kakadu or Litchfield National Parks or flying over the Katherine Corge.
Rest in Australian resorts depending on the season:
Spring: Australian spring months are between September and November. This period is a good time to visit wineries (the Margaret River area) and watch whales. Jazz, blues, opera, beautiful sculptures, surfing, diving, local cuisine, exploring the Daintree rainforest. All this is available in the spring at Australian resorts.
Summer: Australian summers last from December to February. It is advisable to devote this time to relaxing on the Sydney beaches or hiking in the Tasmanian highlands.
Autumn: The fall months in Australia fall between March and May. In autumn, visit Orange - a culinary and wine center, go on a river walk (Brisbane River), go rafting or go fishing.
Winter: In June-August, when the Australian winter reigns in the country, you can ski in the Australian Alps (at your service - the snow-covered slopes in Victoria). And if you wish, you can sunbathe under "winter" sun, snorkeling or diving in the waters of the Great Coral Reef (coast of Queensland), or go on a jeep safari in the Simpson Desert.
Beach season in Australia
In the eastern regions of the country, the beach season is year-round, in the northeast - from April to November, in the southwest - from September to November and from March to May, and in the northwest - from May to October.
The main Australian seaside resorts are the Great Barrier Reef (sandy beaches, coral), Gold Coast (golden sand beaches, shops, entertainment), Perth (sandy beaches where you can relax, regardless of the season), Fraser Island (golden beaches with palm trees), Lizard Island (exclusive beaches, fishing, interesting dive sites).
Couples should take a closer look at the Hyams Beach with white sand..
Diving
Diving can be practiced all year round. In local waters you can see unique representatives of underwater flora and fauna. Diving can be done at Hinchinbrook and Whitsundays and Cable Beach.
Holidays in Australia are perfect for those who like shopping, sea entertainment, skiing, and rich excursion programs. It will be fun for everyone - both companies of young people and married couples with children..
Photos