Districts of Baku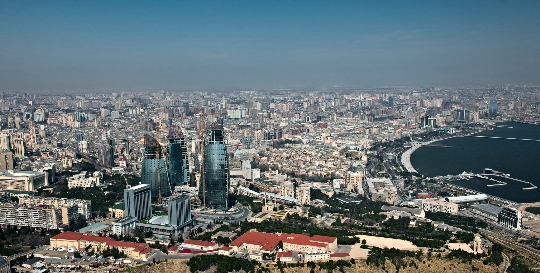 On the map of the Azerbaijani capital, you can see that the districts of Baku are represented in the form of 12 administrative units. Baku is divided into Karadag, Nasimi, Binagadi, Narimanov, Sabunchi, Khazar, Sabail, Nizami, Yasamal, Surakhani, Khatai, Pirallahi districts.
Description and attractions of the main areas

Karadag region: has settlements, among which Gobustan stands out (interesting by the State Historical and Artistic Reserve with its rock paintings dating back to the II millennium BC) and Lokbatan (on the territory of the shopping center "Sudarak" you can visit the mosque of the same name; there is a park named after Heydar Aliyev, the Palace of Culture, a stadium, a food market).
Binagadi region: on its territory it is worth visiting the village of Binagadi - it is interesting with a mountain volcano "Keiraki", Binagadi cemetery of flora and fauna of the IV period, an ancient oil lake (it was the habitat of flying dinosaurs), "hammam", built in 1915, salt lakes Masazir and Bostanshor.
Khazar region: interest due to the Absheron National Park (waterbirds, Caspian seals, gazelles, badgers, foxes and others live here).
Sabail district: famous for the old city of Icheri-Sheher - joining excursion groups, travelers will be able to admire the Shirvanshahs palace (there are 52 rooms, 3 spiral staircases, a ceremonial hall, an exposition of archaeological finds in the form of copper dishes, household items, coins of the XII-XV centuries, weapons, musical instruments), the Maiden Tower (there is a museum here), the Shemakhi Gate (through which the car entrance to Icheri Sheher passes - it will cost 2 manats for traveling by car), the Juma Mosque (it is worth admiring the artistic stone carving), a bathhouse Haji Gaiba (consists of 3 parts - a dressing room, a dressing room and a bathing room), the Multani caravanserai (for visitors there is an excursion, after which they are invited to look into a restaurant decorated in an ancient oriental style). On the territory of the district there is the village of Badamdar: here the water park is of interest to tourists "Aqua Park Kempinski Hotel Badamdar" (will delight visitors with steam baths, a hammam, the opportunity to have a massage, ride on water slides and spend time in indoor and outdoor pools).
Where to stay for tourists (list of places)?
Baku pleases guests with fairly high quality hotels - in addition to budget accommodation, the capital has comfortable hotels, rooms in which can be rented at attractive prices.
Tourists who are not limited in the budget can settle down on vacation in the central districts of the city - there it is worth taking a closer look at luxury hotels, such as "Park Inn" and "Four seasons".
Is your goal a seaside vacation? Take a closer look at "Jumeirah Bilgah" - it is located on the coast and has its own beach. Young people and those who want to save money on accommodation should pay attention to "Baku Old City Hostel".
Photos of Baku districts