Best restaurants in Baku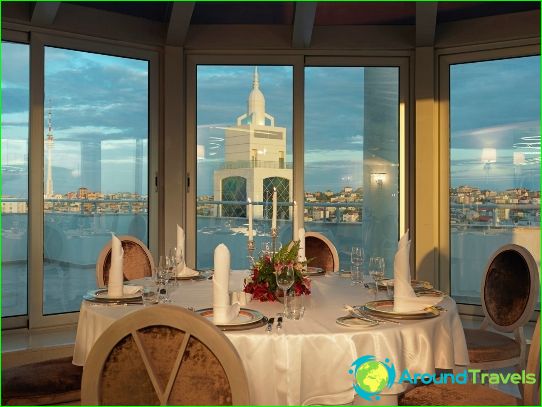 The hospitality and generosity of the states located in the Caucasus are well known to the inhabitants of the post-Soviet space. Since it is not so easy to get to Georgia, Armenia or Azerbaijan, the traveler, who nevertheless covered great distances, becomes the most dear guest. All doors are open for him, the best restaurants in Baku and other capitals, small cafes and barbecue.
Many tourists get to know the beautiful city, its architecture and culture rather quickly. But the journey into the world of tastes and aromas of Baku is not expected.
«Baku» in Baku
It is not surprising that Bakuvians are very proud of their hometown and assign its name to various institutions. Guests of the Azerbaijani capital can be absolutely sure that the restaurant «Baku» a generous treat awaits them.
The menu includes dishes of not only national cuisine, but also Russian, European, and Eastern. For the convenience of visitors, the hall is divided into three zones, making the restaurant cozy and convenient for any company. Another highlight, besides the delicious preparation, is the exquisite presentation of each dish.
Azerbaijani glamor
There is an amazing place in Baku called Chinar, it is here that the most fashionable and glamorous ladies and gentlemen of the Caucasian capital gather. And although the name of the restaurant refers to the depths of national history, the audience, on the contrary, is very advanced. Therefore, if a tourist considers himself to be a representative of the fashionable elite, a kind of glamorous beauty or a modern fashionable guy, he must check in the institution without fail..
Restaurant plus hotel
The latest global trend - each star hotel to have its own chic restaurant - has not been ignored by Baku either. One of the city's luxury hotels, Fairmont Baku has already presented Le Bistro, a French cuisine restaurant to journalists and guests.
In addition to him, in the near future, at the same hotel, it is planned to open several more delicious establishments of this type, including:
ALOV Steakhouse, intended for fans of meat cuisine;
ALOV Jazz bar, where you can listen to good music;
Cigar Divan with its own unique atmosphere.
The very location of the hotel and its restaurants - in one of the two Fire Towers - is also attractive. The institution, both literally and figuratively, is at its best. This will undoubtedly be highly appreciated by its guests, including those who come from abroad..
Photos