Suburbs of Baku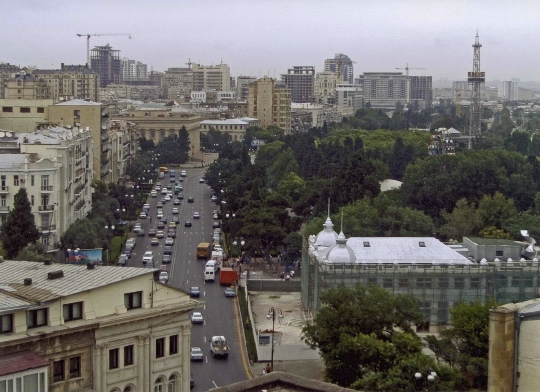 The capital of Azerbaijan is a very ancient city. The first written mentions of it appear in the early Middle Ages, although rock carvings found in the suburbs of Baku indicate that the first people appeared here in prehistoric times. The population of the city together with the outskirts is more than two million people.
On the shores of the gray Caspian
A large number of beach areas are concentrated in the suburbs of Baku, where locals prefer to spend their weekends. Some beaches are well equipped and worthy of attention and guests of the Azerbaijani capital:
Novkhani is a beach road in the suburbs of Baku, along which well-equipped recreation areas are located. The entrance to the beach is usually free, but local entrepreneurs will have to pay for parking the car. The beaches themselves are equipped with toilets and showers, and those wishing to dine with a sea view can use the services of numerous cafes. Near the Aqua-Park hotel guests will find a paid beach with sun loungers, umbrellas and tennis and volleyball courts..
Waterpark Golden Beach is a favorite place for families. Slides and water attractions here are designed for every taste and age of visitors.
The beaches near the village of Zagulba are sandy, but the entrance to the sea may have sharp stones at the bottom, and therefore special care should be taken when swimming. The infrastructure consists of gazebos for recreation, both collective and individual, fresh showers, changing rooms and storage rooms.
On Mirvani beach, you can not only sunbathe and swim, but also play football or volleyball, ride a banana boat or a jet ski and celebrate a joyful event in the banquet hall overlooking the sea.
The cultural and entertainment center of the Bilgah settlement is not inferior to the sea resorts of the far abroad. Outdoor pools of different depths, water attractions, summer cafes and the opportunity to do water sports make it a popular recreation place in the suburbs of Baku..
History and modernity
In the north of the Absheron peninsula, there is the ancient village of Mardakan, where a large number of historical and architectural sights are concentrated. Guests of this suburb of Baku enjoy walks in the botanical garden, get acquainted with the exposition of the house-museum of Sergei Yesenin and take photographs of the fortress with a round tower, erected in the XII century. Another unique building in this suburb of Baku is a fortress of the XI century, the quadrangular tower of which is decorated with memorable collectible stamps issued in Azerbaijan.
Photos