What to do in Baku?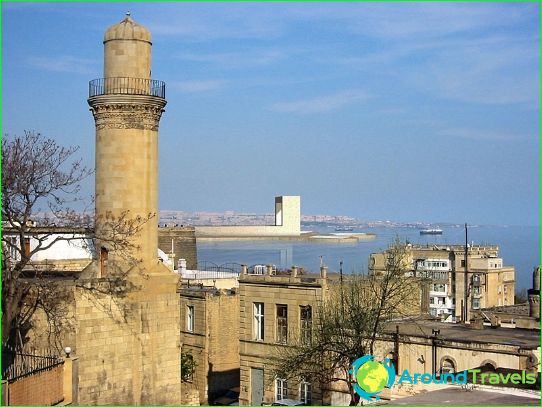 Very cordial and hospitable people live in Baku, so you should not be surprised, let alone refuse an invitation to visit for a cup of tea. You can also be treated in Baku in trade shops. After accepting the treat, you should thank the owner and buy a souvenir from him..
What to do in Baku?

Take a walk in the Old Town;
Look at the symbol of Baku - the Maiden Tower;
Take an excursion to the palace of the Shirvanshahs (15th century);
Walk around Baku at night to see the buildings, which are almost all illuminated by magnificent illumination.
What to do in Baku?
Walking along the Old part of the city (Icheri Sheher), you can walk along the streets, buy souvenirs, as well as find the place where the comedy was filmed "The Diamond Arm".
Then you can go down to the embankment: there are pleasure boats on the sea pier (they leave every 30 minutes), having bought a ticket for which, you can go on a boat trip and see the Maiden Tower from the sea.
Baku is famous for its villages, many of which are located on the coast of the Caspian Sea: since they all have boarding houses, hydrotherapy centers, sanatoriums, access to their own equipped beaches, you should come here for treatment, health improvement and beach holidays.
Active and beach holidays

Beach lovers will love to bask on the beaches in Novkhani (Barbados Beach, Palma Beach, Sahil Beach) and Mardyakian (Jazzi Beach, Dalqa).
When resting with your family, you should go to the AF Hotel-Aqua Park, a large water park in Azerbaijan (in the village of Novkhani). At the service of vacationers - cafes, slides, children's clubs with animators who conduct funny contests.
You can go to the village of Mardyakyan to spend time in the Studio 2 Bavarius water park - here you can not only have fun on the rides, but also see the performances of show business stars.
Or you can go to an amusement park, for example, Koala Park or Luna Park.
Active tourists will love the Metkarting entertainment center - here you can play bowling and go-karting. Those who like to stay awake at night should pay attention to nightclubs and discos (Rich Club & Lounge, Capones).
Those who prefer to go on ecological tours will be able to spend time outdoors in parks, gardens and squares of Baku, for example, in the Upland Park, in the Governor's and Sabir's garden..
You can come to Baku as part of a shopping tour to purchase fine carpets and high-quality silk of local production, bronze, copper and ceramic dishes, as well as edible souvenirs (wine, baklava, cognac, black caviar).
Baku is not only an ancient city in the Caucasus, but also a modern metropolis with a developed infrastructure: it will be interesting to relax here both for fans of excursions and supporters of active recreation..
Photos where you can go in Baku