Water parks in Baku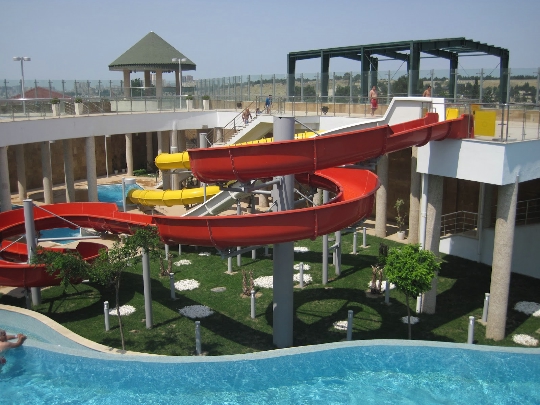 Travelers who went to Baku will be able to "unwind" and relax in entertainment and water entertainment centers.
Water parks in Baku

"Aqua Park Kempinski Hotel Badamdar": here you will find indoor and outdoor pools, slides, hammam, saunas, massage treatments, steam baths, a bar "Waikiki", where you can enjoy tropical cocktails. And after an active pastime, guests can evaluate the menu in the restaurant of European cuisine (if necessary, you can pay with a bank card), located in the nearby territory.
"AF Hotel & Aqua Park": has a water park with 4 swimming pools, including a children's one, and water slides. And especially for children, there is an entertainment center with slot machines and playgrounds, and animators regularly involve them in various activities (games, contests, creating paintings from sand).
"Studio 2 Bavarius": here you can not only swim in the pools and enjoy water attractions, but also spend time in cafes and on terraces for relaxation, as well as attend concerts that take place here on a regular basis.
Aquapark in "Jumeirah Bilgah Beach Hotel": it pleases guests with 11 slides, pools with sun loungers and fountains installed around the perimeter. In addition, there is a children's pool with slides and "Waterpark Cafe".
"Aqua Park Shikhov": This beach complex is equipped with showers, 1 children's and 3 swimming pools for adults (the pools have sun loungers and tables under awnings), water slides, water attractions, trampolines. In general, adults are asked to pay 30 manats to enter local water parks, and 6-12 year olds - 15 manats (0-6 years old - free).
Water activities in Baku
Lovers of water sports should visit the dolphinarium "Marlin": guests are entertained here with show programs with the participation of dolphins and sea animals, as well as offer them to use the dolphin therapy program, play ball with peace-loving creatures, and go diving. Separately, it is worth mentioning the prices: a ticket for the show costs 20-25 manats, a photo with a dolphin - 20 manats, swimming with a dolphin (2 laps around the pool + photo) - 30 manats, diving with dolphins - 100 manats.
And if you want to see a complex of water canals with bridges, nicknamed "Baku Venice", head to Primorskiy Boulevard for a boat ride through the maze of canals, and in one restaurant you can taste oriental dishes, and in another - western cuisine. It is worth noting that the entrance to the complex is free, but for a 20-minute boat ride you will be asked to pay 5 manats.
In addition, the Primorsky Park itself should not be deprived of attention, where, in addition to attractions for children (children's train and other swings), there is also entertainment for adults ("Viking"), and here you can also ride on the surface of the pool in inflatable balls.
Photos