Rest in Baku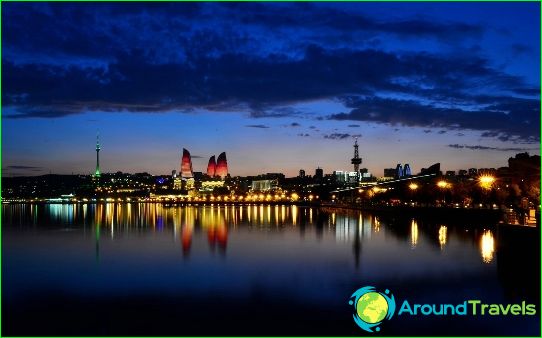 Holidays in Baku are popular with those who want to have good fun, admire the natural beauty, get acquainted with the local history, culture and traditions..
The main types of recreation in Baku

Excursion: going on one of the excursions, you will see the Icheri Sheher fortress, the Synyk Gala castle, the Shirvanshahs' palace, the Maiden Tower, the Shemakhin gate, visit the Museum of Archeology and Ethnography, the carpet workshop (here you will be shown how the process of making carpets takes place), the temple of the eternal fire "Ateshgah", nature reserve "Yanar Dag", walk along Primorsky Boulevard, Sabir Garden, Governor's Garden, Upland Park. A trip to the town of Gobustan, where you can see rock paintings, is organized for everyone. If you wish, you can go to the BITC - there you will be provided with information about the main attractions of the city (here you can also book excursions, book tickets and book rooms in hotels).
Active: active vacationers can go diving, ride a boat along the Baku Bay or water ski, spend time in the entertainment center "Metkarting" (you can go karting and play bowling), dance at one of the discos in nightclubs "Capones", "Sound factory", "N-Brothers".
Beach: to relax on the best sandy beaches, it is advisable to stay in one of the hotel complexes. So, you should pay attention to Crescent Beach (Shikhovo) - on this beach there is a tennis court, sports ground, changing rooms and showers, as well as on Khazar Golden Beach (Mardakan) - it has showers, changing rooms, children's jacuzzi, swimming pools and slides for adults and children.
Prices for tours to Baku
It is best to visit the Azerbaijani capital in May-September. But it is worth considering that in the high season (June-August) the cost of vouchers to Baku rises in price by about 35-45%. If you are interested in buying more profitable tours, then it is advisable to go to Baku in May, September-October or even in the low season..
On a note!
To pay for goods and services in local shops, restaurants and markets (bargaining is appropriate in small shops, souvenir shops and markets), it is better to prepare the national currency, but in some stores, US dollars are accepted for payment.
Since the streets of Baku are always patrolled by police officers who keep order, it is advisable to take a copy of your passport and a hotel card with you for a walk. In order to avoid paying a fine, you should not appear in extravagant outfits and drunk in public places.
Memorable gifts from Baku can be carpets, products from high-quality silk of local production, ceramic, copper and bronze dishes, clay and wooden figurines, baklava, cognac ("Ganja", "Old Baku", "Gek-Gel"), black caviar.
Photos of rest in Baku