Minsk in 1 day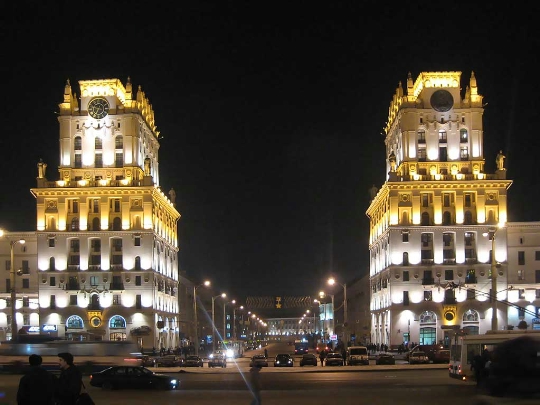 The capital of Belarus has a reputation as one of the cleanest cities in Europe. Here you can walk through parks and squares, visit local sights, taste a thousand potato dishes and come up with many more interesting entertainments, even if you are in Minsk for 1 day..
On Freedom Square
Once the main city square, it lost its significance during the war years due to severe destruction. Today, old buildings have been restored here and Freedom Square can become the main pleasant impression from visiting the Belarusian capital..
The architectural dominant of the square is the building of the City Hall, built in the second half of the 16th century. The fate of the building is not easy, and its purpose has changed more than once in the course of time. It housed a magistrate and a music school, judges sat and old archives were kept. At the end of the 19th century, the building was used as a theatrical stage, on which plays by the most famous playwrights of those years were staged. In 1857, by decree of Nicholas I, the Town Hall was destroyed, but in 2002 the city authorities decided to restore it. Today, the white clock tower, like 400 years ago, reminds the city dwellers hurrying by about the exact time..
The Church of the Virgin Mary, built in the Vilna Baroque style, rises next to the Town Hall building. The cathedral Catholic church was built at the beginning of the 18th century with numerous donations from the population of the city. Having undergone changes in its appearance during the years of Soviet power, the church served for a long time as the House of the Sportsman. In 1993, it was restored to its original form and re-consecrated..
Museums and galleries
After walking the streets and trying to pass Minsk in 1 day, you can visit a couple of museums you like, of which there are several dozen in the city. The most popular and interesting from the point of view of visit statistics:
National Art Museum. The exhibition presents samples of painting from different years.
The Museum of the History of the Great Patriotic War tells about the great feat of the Belarusian people.
Museum of the history of the city of Minsk. In 1 day you can learn everything about the capital of Belarus.
Carriage museum.
Museum of stones.
Literary Museum of Yanka Kupala. The exposition is dedicated to the work of the national poet and classic of Belarusian literature.
Walking around the city takes a lot of energy, which is best restored in a cafe or restaurant. Prices for the most specialties of local cuisine are pleasantly pleasing, and the quality of any of them delights even the most demanding guests.
Minsk, Belarus

Photos