Where to eat in Bruges?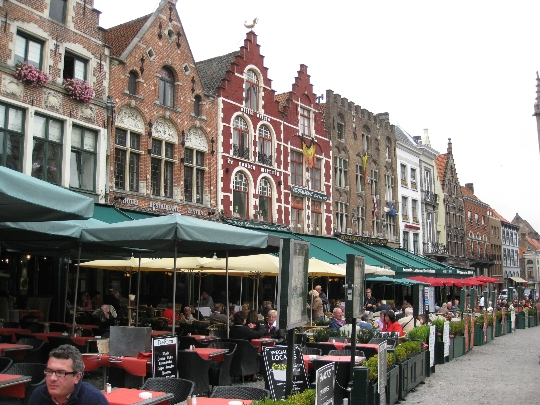 "Where to eat in Bruges?"- a topical issue for tourists coming to rest in this Belgian city. In Bruges, there are many establishments offering local cuisine, in particular mussels - fried, baked, raw ...
Where to eat in Bruges inexpensively?
It is quite problematic to find cheap food establishments in Bruges - not only in the center, but also in remote areas, there are quite expensive cafes and restaurants..
If your goal is economical food, it makes sense to go looking for burgers or shop for groceries in supermarkets. In addition, relatively cheap food awaits you at freakaten kiosks where you can buy a sandwich, french fries and other fast food. If your goal is to enjoy local cuisine at reasonable prices, head to the restaurant "t'Oud Kantuys" - for soup here you will pay 6-10 euros, salad - 14-15 euros, main course - 16-30 euros, a small saucepan of mussels - about 20 euros.
Where to eat in Bruges delicious?

Huidevettershuis: This restaurant serves traditional Flemish soup, fried rabbit, pickled herring. In addition, the establishment will delight vegetarians (there is a vegetarian menu).
De Karmeliet: fish dishes are very popular in this restaurant - here you should order fish soup with shrimps, grilled fish, as well as all kinds of snacks, salads, cheese platters, including delicious and rare types of cheese.
Bhavani: There are many Indian delicacies on the menu at this restaurant. And married couples will not have to worry about what to order for their children - the institution has a special children's menu.
Brasserie Erasmus: In this restaurant you can enjoy traditional Belgian snacks, rabbit in beer sauce, mussels with chips, beer, as well as European cuisine.
Narai Thai: This Thai restaurant invites its visitors to indulge in Thai dishes based on rice, chicken, pork, duck, flavored with aromatic spices. You should definitely try Thai soups and sauces based on coconut milk, lemongrass, coriander and other ingredients..

Gastronomic excursions in Bruges
As part of a gastronomic tour of Bruges, you will visit grocery stores and taste various types of beer. So, you will visit a boutique where you can buy chocolate boxes, ships and locomotives, chocolate bottles filled with cognac, figurines of people and animals made of chocolate. An accompanying guide will take you through several restaurants where you can taste grilled mussels, grilled meat with salad and other delicious dishes.
In Bruges, you can go for a ride in a carriage, sail on a boat along the canals, climb the Belford observation tower, enjoy Flemish cuisine.
Photos