New Year in Brussels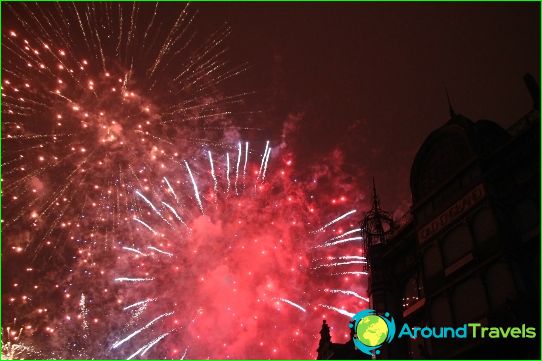 The capital not only of Belgium, but of the entire united Europe, Brussels is not as famous among tourists as Rome or Paris. However, this ancient city is famous for its rich cultural traditions and is also famous for its «chocolate capital» Of the old world. The idea of ​​celebrating the New Year in Brussels can be an interesting, informative and very tasty event..
Large area in lights
Brussels is being decorated in earnest for Christmas and New Years. The Grand Place, which is considered one of the most beautiful squares in the world not only by the Belgians, has gathered in its palm many ancient buildings. For the holidays, magnificent illumination is mounted here, which especially successfully sets off the secular austerity of the 15th century City Hall and the almost 100-meter tower with the statue of the Archangel Michael. Christmas illumination brings a smile to the face of amazingly illuminated old facades «She-wolves» and «Fox» - on the square, each mansion has its own name.
The Christmas market is noisy until late at night. Citizens and tourists are in a hurry to buy gifts for relatives, souvenirs and delicious treats for the New Year's table. It also hosts musical performances, concerts and costume performances based on famous Christmas themes. The country's main tree on the Grand Place becomes an indispensable participant in the cultural and entertainment program, and with the onset of the New Year it looks especially luxurious in the fireworks that flood the festive Brussels with light.
Gourmets and couch potatoes
Fans of traditional festive feasts can be advised to celebrate the New Year in Brussels in one of its cozy restaurants. The Gala Dinner is usually a true multi-course feast. The Belgians certainly have duck liver and baked potatoes, beef tenderloin and snails, caviar, grapes and fine wines on the table..
Hotels are developing holiday offers for guests, which include not only accommodation, but also a gala dinner with an excellent menu and drinks, skating rink tickets and the famous Belgian chocolate as a dessert. Morning breakfast is served upon request in the rooms or in the common room of the restaurant..
Photos of New Years celebration in Brussels