Belgian traditions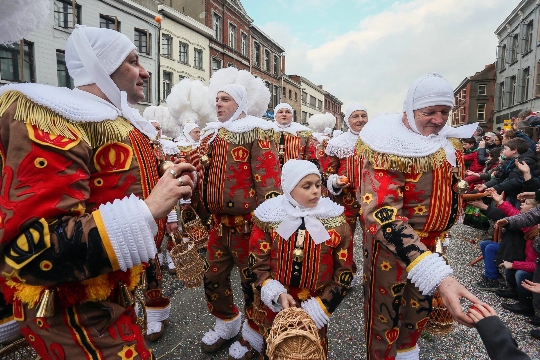 Lace and diamonds are the calling cards of this small European country, modestly lost in the Old World between France, Holland and Germany. But the descendants of the ancient Celtic tribes live not only by cutting diamonds and handicrafts. Other numerous traditions of Belgium often become the reason for the influx of tourists to its large and small cities..
Boring? You just don't know how to have fun!
The Belgians are often called boring people, but the French or the Germans, who think so, simply did not make real friends here. The modern citizen of Belgium has a calm disposition, prudence, thoroughness in decision-making and enough religiosity to attend church once a week..
By the way, it is the church holidays that the traditions of Belgium prescribe to celebrate on a special scale. What is, for example, the Ascension in the town of Bruges! For eight centuries, spectacular processions have been organized here, in which monks take part with a cup of the blood of Christ. In the town of Berne, the ministers of the church hold the Procession of Penitent Sinners, during which they drag heavy crosses in memory of the Savior's torment.
Flower festivals or musical festivals are secular events. It is customary to visit them with the whole family, and at the end of the celebrations - arrange a dinner in one of the city's restaurants. The highlight of the menu of any of them is beer brewed in full accordance with the traditions of Belgium.
Sweet life
But today's Belgians are not alive by beer alone. Chocolate has long become their no less passionate love. There are thousands of large and small chocolate shops, shops and even boutiques in the country, where a variety of products of local confectioners are exhibited..
Belgian traditions require local chocolatiers to experiment in every possible way. As a result of sweet experiments, praline-filled sweets, chocolate bars with basil, sea salt and hot peppers, and even sauces for pates and fish based on cocoa beans were once born. What are the sauces! Local craftsmen have adapted to bottling the famous beer in bottles of pure chocolate, in spite of stereotypes and concepts of incompatibility of products. The Chocolate Museum opened in Bruges is one of the most visited in the country, and in some restaurants in the city, cocoa beans in various variations are present in every dish from soups to desserts..
Photos