Belize Resorts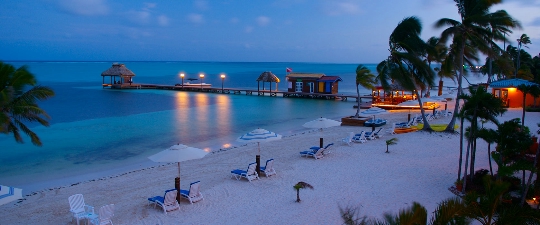 Small but proud Belize is one of the poorest states in the Western Hemisphere. Sandwiched between Mexico and Guatemala, it is increasingly becoming the target of foreign tourists for two reasons - luxurious beaches and great diving opportunities. Alas, the resorts of Belize can hardly be called ideal for a comfortable and serene vacation, but the government is doing everything possible to ensure that as many foreign guests as possible flock to the local shores and replenish the state budget. The results were not long in coming, and now the Ministry of Tourism was able to report on a million foreigners who visited Belize in 2012.
Packing suitcases
Why do all these people fly to the resorts of Belize and is it worth it for Russian travelers to buy air tickets and rush to distant lands?
The Belize Barrier Reef is the second largest in the world after the Australian one. Diving opportunities at local resorts are highly rated even by ocean scientists.
Safe waters for windsurfing, snorkeling, boating and water sports make beach vacations varied and fun.
The jungle and wild rivers are an excellent staging ground for hiking and rafting, and the huge cave system gives cavers an excuse to fly to the resorts of Belize.
The historical ruins of the pre-Columbian Mayan civilization are in no way inferior to the Mexican or Guatemalan.
Excursion tours around the cities of Belize will give an unforgettable experience of the life and life of the descendants of the Central American Indians.
Beach paradise
The main resorts of Belize are concentrated on the south and east coasts and are fishing villages with gorgeous white beaches. They are all similar to each other, but in the tourism rating, each has its own definitions and ratings..
Hopkins Village is named the friendliest resort with authentic restaurants and souvenir shops.
In the seaside Placencia you can stay in a hut on the beach with a shower and a bed with a mosquito net. Its main attraction is the narrowest street in the world, but the possibilities for diving, snorkeling, sea fishing or boat trips in the mangrove forests are truly endless..
The beaches of Orchid Bay in Chetumal Bay are more civilized and this Belize resort boasts comfortable hotels and quite civilized restaurants on the coast..
Photos