Cambodia beaches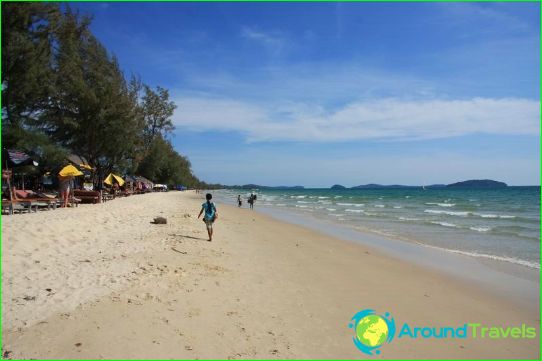 Mecca of beach holidays in Cambodia is the port resort city of Sihanoukville (200 km from Phnom Penh). The tourism industry in the country began to develop not so long ago. Therefore, fewer tourists come than, for example, to Thailand. The beaches of Cambodia are good with white sand, the clear waters of the Gulf of Thailand, a variety of hotels and cafes. The rainy season lasts from June to September, the rest of the time the best sandy beaches of Cambodia are ready to receive guests.
The most famous beaches in Cambodia

Occheuteal Beach looks like a graceful strip of sand with free sun loungers. Bars and souvenir shops are scattered along the entire length of the beach. Located almost in the city center, very popular with tourists and locals.
Serendipity Beach is loved by tourists spoiled by civilization for the opportunity to swim and sunbathe without leaving the hotel. On the shore, there are shops, cafes with Khmer dishes, cheap huts for accommodation..
Otres Beach, 5 km from Sihanoukville, is for those who dream of a secluded stay on the seaside. Please note that there are no hotels nearby that are suitable for families with children. But it is ideal for newlyweds having a wedding ceremony in this guest-friendly country. There are several small islands opposite the beach, which can be reached by rented boat.
Victory Beach is preferred by tourists who love outdoor activities. It is located in the far part of the Sihanoukville Peninsula, next to the port and is famous for its picturesque sunsets, wonderful sand.
Sokha Beach is managed by the five-star Sokha Beach Resort, built close to the coast. The beach is 1.5 km in size and is kept in immaculate condition, but the entrance to it is only available to hotel guests. For all others, however, a part of the beach at 100 m is allocated.
Independence Beach also belongs to the hotel of the same name. Locals call this beach among themselves «seven-story hotel». Its length is about 2 km, but the beach area is generally inaccessible to outsiders. The beaches of Soho and Independence are attractive because, despite their proximity to the city center, they are very comfortable and calm to relax on..
About Hawaii Beach, visitors are told that part of it belongs to the famous Alain Delon. On the shore, it is pleasant to bask in the dense shade from the luxurious pine trees and watch the sailing boats.
Photos of Cambodia beaches