Holidays in Cambodia in April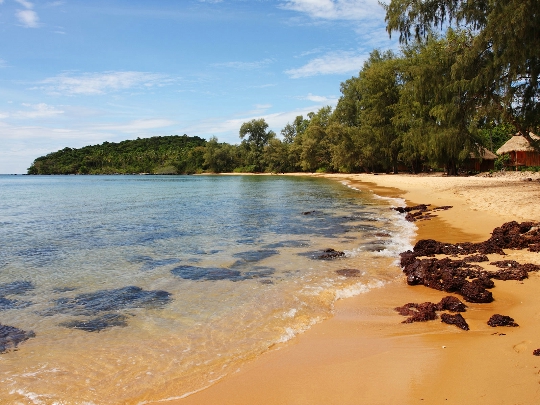 A tourist coming from a country with a temperate climate may find Cambodia's April weather uncomfortable. During the day, the air warms up to + 35C, and at night it cools down by only ten degrees. Thus, April is one of the hottest months of the year. At the same time, the conditions for a beach holiday are ideal, because the water temperature is about 30 degrees.
The amount of precipitation continues to grow and in April it is 101 millimeters. It rains for about eight to nine days. The rainfall is light to moderate. The number of hours of sunshine is gradually decreasing. Many people do not tolerate the heat in Cambodia, but at the same time, a beach vacation can give the best experience..
Holidays and festivals in Cambodia in April
Are you planning an eventful Cambodia vacation in April? Perhaps you are interested in attending different events? So what cultural leisure can be?
At the end of April, it is customary to celebrate Royal Plowing Day in Cambodia. This day is held in honor of the beginning of the sowing season. Traditionally, a solemn ceremony of laying the first furrow is held in the rice field located next to the royal palace of Phnom Penh. Royal Plowing Day is notable for its unusual ritual. It is customary to harness sacred cows to a plow, lead them across the field three times, and then bring them to seven dishes. The choice made will make it possible to understand what the next year will be like. Anyone who is lucky enough to see the solemn ceremony and ritual can appreciate the uniqueness of Cambodian culture.
New Year in Cambodia is called Chaul Chnam. It is customary to celebrate it in mid-April. Usually the New Year falls on the 14th, 15th or 16th. The dates are determined by the lunar calendar. Khmers tend to celebrate Chaul Chnam in a special way. Among the customs should be noted the ability to wear only new things. In the New Year, it is customary for the Khmers to pour water over each other. Tourists should be prepared for the fact that they will also undergo water treatments. According to tradition, the water should be yellow, blue or pink, because these colors symbolize a happy future. Khmers strive to visit monasteries on the first two days of the new year in order to bring food for the monks and pray.
At the end of April, it is customary in Cambodia to celebrate the religious holiday Visaka-Buchea. Celebrations last seven days.
Vacation photos in Cambodia