Tours in Toronto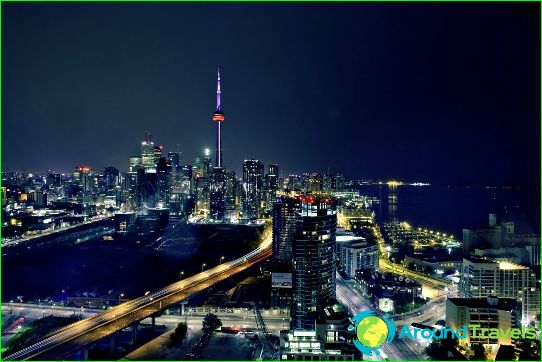 The huge country of Canada has a very low population density. About a third of him live within a 500-kilometer radius of the city of Toronto. No wonder its name is translated from Huronian as "meeting place". The huge metropolis is called the economic engine of the country, and according to authoritative magazines, it regularly ranks among the top five cities in the world with the highest living standards. However, for the participants of tours in Toronto, there are many other reasons to go on a long journey, because in this city modernity and old traditions, natural beauty and architectural attractions are mixed. And the Canadian city is one of the safest on the continent, despite the fact that almost half of its inhabitants were born far outside the country..
History with geography
The city is located on the western shore of one of the Great Lakes. Ontario also affects the climate in the city, which can be called continental, but quite humid. The Hudson Bay of the Atlantic, to the north, also contributes to the weather, and the region is characterized by warm but humid summers and cold, frosty winters. In July, thermometers can rise to +35 degrees, and in winter, drop to –20 degrees. But typical temperatures are +25 and -10, respectively.
Toronto has a tradition of supporting the national cultures and customs of all immigrants, and therefore you can find Indian shops and Chinese restaurants, Italian pizzerias and Filipino souvenir shops here..
Briefly about the important
A direct flight Moscow - Toronto is carried out several times a week by a Russian airline, and with transfers you can fly through almost any of the European capitals. The international airport is located 30 kilometers from the center and you can get to the city from there by express or taxi, which is not too budgetary, or, much cheaper, by bus connecting the air terminals with the terminal station of one of the metro lines.
Tourists in Toronto can get around the city by metro or trams, which have routes with stops in the most interesting and significant places in the city. Tickets are the same for all types of transport and entitles you to travel to the final point, regardless of the number of transfers. You will have to buy a separate ticket for commuter buses.
The tallest building in Toronto - the CN Tower - in addition to the standard panoramic views from the observation deck, offers daredevils a special attraction. At an altitude of 365 meters, you can stroll along an unfenced cornice only one and a half meters wide and look at the city without interference in the form of nets or glass. Insurance included.
Photos