Population of Canada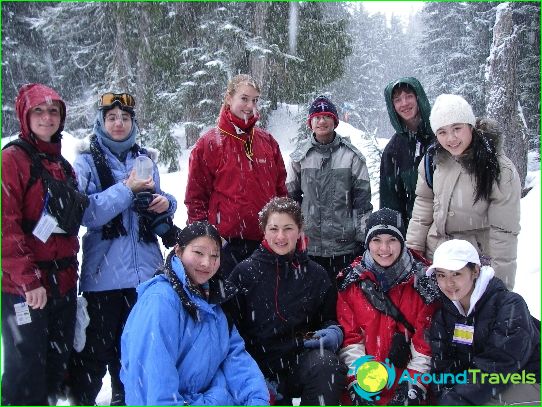 Canada has a population of over 32 million.
National composition:
Canadians (40%);
British (20%);
French (16%);
Scots (14%);
other nations (10%).
Canada is a sparsely populated country - an average of 2.5 people live per km2.
The main population of Canada, despite the fact that the country has a huge territory and a large area, lives in cities such as Toronto, Ottawa, Montreal (160 km from the border with the United States).
More than half of Canadians speak English (English is spoken in Toronto, in the western and central parts of the country), while part of the population speaks French (completely French-speaking people live in Montreal and Quebec).
Among Canadians there are Catholics, Protestants, Hindus, Jews, Buddhists.
Canada is a country of immigrants who come here from all over the world throughout the country's history and bring their culture, traditions and customs with them. The state, in turn, supports multiculturalism, therefore, holding various festivals of the Scots, French, Chinese and Portuguese on the streets and in city parks is not uncommon.
Life span
Men live on average to 75, and women to 82.
Canada is a healthy country in the world: this is due to low infant mortality, low air pollution, low prevalence of diseases, high density of doctors for every 1000 people.
In addition, Canadians smoke 3 times less than Greeks and Russians and 2 times less alcoholic beverages than, for example, Czechs..
Traditions and customs of the inhabitants of Canada
In Canada, they love holidays, which are divided into religious and political. Generally, all holidays are weekdays except Christmas and Easter. The favorite holidays of Canadians are Canada Day (July 1), Labor Day (September) and Thanksgiving Day (October).
It is customary to give gifts in Canada only on special occasions (anniversary, wedding, Christmas). And the most expensive gifts are usually given to newlyweds. As for the rest of the cases, it is customary to give gifts that would not oblige the person being gifted to anything. To whom it is categorically not accepted to give gifts is to the authorities - this will be perceived as a bribe.
Canadians are law-abiding citizens, so it is common practice to report wrongdoing or a neighbor who lives beyond their means to the authorities..
Residents of Canada are very careful about nature (they expect the same from guests who come to the country) and about their health (many do not smoke, and besides, smoking in public places is not allowed).
Canadians are very punctual people, so if you make an appointment and are late, be prepared for the fact that in 10-15 minutes their patience will burst (no one will wait for you) - you will not have the most disagreeable impression, and you will earn a reputation of not being serious human.
Photos