Airport in Ingushetia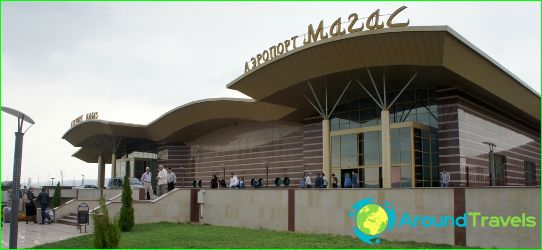 Magas Airport is located in the city of the same name in the Republic of Ingushetia. The capital airport is named after the first hero of Russia S.S. Oskanov. The airport is located about 30 kilometers northeast of the city of Magas.
One runway, 3000 meters long, is capable of serving 5 aircraft per hour. The airport in Ingushetia Magas has the ability to serve up to 150 passengers and 100 tons of cargo per hour.
History
In the summer of 1992, after the formation of the Republic of Ingushetia, there was a need for its own airport. Already in November, it was decided to start construction on the basis of the Armavir military flight school. Almost 2 months later, the new airport in Ingushetia received the first aircraft.
In 1995, it was decided to build a new airport, which was commissioned by 2000. At the same time, it was decided to rename Ingushetia airport to Magas airport.
In 2007, an open joint-stock company was created, this made it possible to finally secure the airport for the capital of Ingushetia.
At the end of 2011, the airport for the first time served UTair, whose plane successfully landed at Magas airport.
In 2012, the airport was named after S.S. Oskanov. A fighter plane was installed at the station square, on which he made his last flight..
In early 2013, Magas Airport began construction of a new international terminal.
Services
The airport in Ingushetia is ready to offer its guests all the necessary conditions for a comfortable stay on its territory.
For passengers there are cafes, ATMs, post office, mother and child room, luggage storage, shops, etc..
There is ample parking for passengers on private vehicles. The airport is also ready to offer business class passengers a separate waiting room..
Transport
From the airport to Magas can be reached by public transport. Buses depart regularly from here to take passengers to the city center. Also, tourists can always take a taxi..
Photos of Ingushetia airport