Things to do in Krasnaya Polyana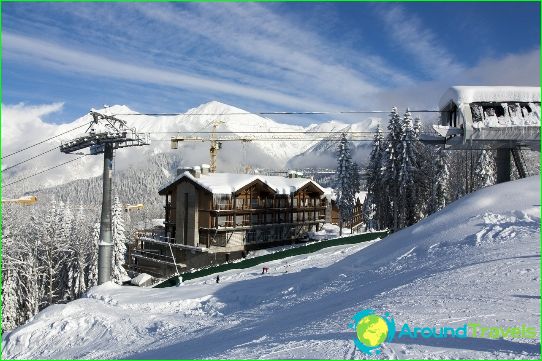 Entertainment in Krasnaya Polyana is not limited to skiing or sledding: the resort has conditions for horseback riding, paragliding, jeeping, rafting, canyoning, zorbing.
Amusement parks in Krasnaya Polyana

Ethno-park "My Russia": the park is divided into zones by geography, so its visitors can "visit" in the Krasnodar Territory, in the Caucasus, in St. Petersburg, Suzdal, Siberia and other cities and regions. In addition, here you will have the opportunity to acquire unique souvenirs and taste traditional dishes at a local restaurant, and on holidays - take part in mass entertainment events.
"Panda Park": you can navigate this rope amusement park using trails-crossings, choosing for yourself a route of the optimal level of difficulty ("Panda Pro", "Brave Panda", "Express Liana"). It is worth noting that bridges, crossings, bars, steps, climbing walls and other elements of the park are at a height of 3-25 meters (experienced instructors will always come to your aid, and you can get all the necessary equipment at special points).
What entertainment in Krasnaya Polyana?
The main entertainment in Krasnaya Polyana is skiing and snowboarding (the duration of the skiing season is November-May). The resort offers trails of different difficulty levels: the slopes of the Rosa Khutor, Alpika Service and others will await you..
Consider yourself a paintball fan? Contact a paintball club "Vertical" - its employees will organize a game for you in the forest on a specially equipped area. At your service - themed entertainment, such as, "Capturing a building" or "Capture the Flag". In addition, if you wish, you can take part in corporate tournaments..
While resting on Krasnaya Polyana, you should not miss the opportunity to visit the theme park "Bath-Land" - here you will be offered to take a steam bath in Russian, Turkish, Greek and steam rooms of different peoples of the world (each bath is a separate building, which provides for the passage of certain rituals). In this amazing bath complex you will find procedures in the form of contrast douches, massages, body wraps, masks, salt baths.
Entertainment for children in Krasnaya Polyana
To see a happy smile on the face of your grown child will help stay in the adventure rope complex "Taipark": here for visitors of different ages there are attractions located at a height of 1-6 meters (the length of the children's route - 300 m, and the adult - 1 km).
Do you want your little one to have fun? Let him visit the kids club "Morozko", where experienced educators will involve him in theatrical performances, offer him to master the basics of applied art, plunge into the world of developmental, role-playing and outdoor games, and also treat him to tea with sweets.
Rest in Krasnaya Polyana - a paradise for lovers of active entertainment!
Photos