Where to relax in the Caucasus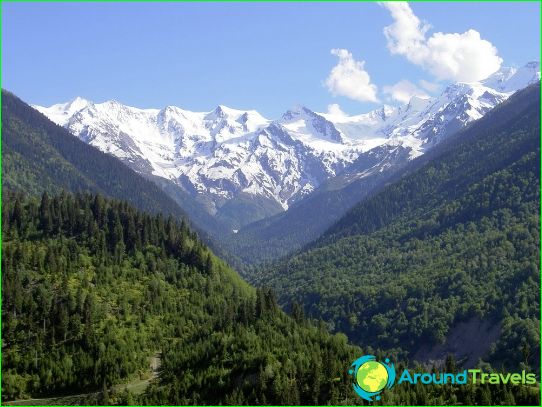 Rest in the Caucasus can be conditionally divided into a quiet rest and an active one. Active recreation includes climbing the highest point of our country - Elbrus, as well as a variety of mountain hikes, rafting, jeep safari, horseback riding tours. And where it is better to relax in the Caucasus in winter is in the beautiful ski resorts: Elbrus region, Krasnaya Polyana, Dombay.
Leisure
The Caucasus is a good choice for those who like to relax actively. Here you can climb the mountains of the Greater Caucasus Range. The most famous place is considered to be Mount Elbrus, which is more than 5500 meters above sea level..
The most popular Caucasian resorts specializing in active recreation are:
Krasnaya Polyana;
Dombay;
Elbrus.
At these resorts, you can go rafting, take part in a jeep safari, ride horses, ski and ski, snowmobiles.
Calm rest
For a relaxing holiday in the Caucasus, there are many health resorts located near mineral springs and sanatoriums. And just the most beautiful places where you can enjoy the beautiful scenery of the mountain ranges.
If you settle in an alpine camp or mountain shelter, you can start your day with a cup of fresh coffee, admiring the snowy peaks of the mountains. Even in summer, there are many snow-capped peaks in the Caucasus, where a cover of snow and ice has been lying for many centuries..
Chegem waterfalls
Quite an interesting and beautiful place for recreation in the North Caucasus - Chegem waterfalls, located in the Chegem gorge - one of the most beautiful gorges in the Caucasus. In winter, these amazing waterfalls are even more beautiful than in summer. Ice pillars and columns of frozen streams of water resemble large twisted candles and stalactites.
You can also hike in the mountains, or take an excursion to the amazing Blue Lakes.
Healing rest

Essentuki resort is best known for its drinking springs and balneological clinics. It specializes in the treatment of diseases of the digestive system and metabolic disorders.
Zheleznovodsk is a small but cozy town. Tourists are attracted here by hot springs gushing from the ground. You should come to the sanatoriums of the city if you want to improve the work of the digestive or urinary system..
Pyatigorsk belongs to the multi-profile resorts. It provides a universal treatment for all diseases. These are skin diseases, professional polyneuritis, diseases of the musculoskeletal system, etc..
The resort places of the Caucasus are a real pearl in the tourist destination in Russia. Here nature itself has created just ideal conditions for a good rest: the purest air of the mountains, many mineral springs and three hundred days filled with sunshine throughout the year..
Photos of rest in the Caucasus