Season in Dombai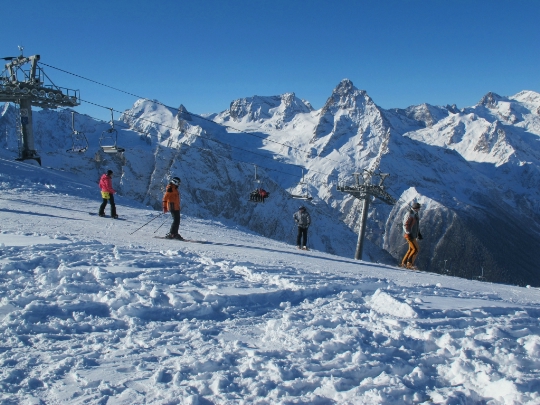 Dombay is located in the North Caucasus and the Black Sea coast and the highest peak of Russia, Mount Elbrus, are equally remote from the territory of the Dombai glade. For fans of relaxation in these places, concepts «season on Dombai» does not exist. It is equally interesting here both in winter during the ski resort and in summer, when the beauty of the Teberdinsky reserve becomes available for hiking and excursions..
About weather and nature
Dombayskaya glade stretches at an altitude of more than one and a half kilometers above sea level. It is formed by the confluence of three gorges. The southern border of the mountainous territory of Dombai runs along the main ridge of the Greater Caucasus, and the highest mark is at the more than four-kilometer peak Dombai-Ulgen.
The climate in the mountainous territory of Dombay is called moderately continental. A large number of sunny days a year are celebrated here, and mild air temperatures allow the most desperate to even sunbathe while skiing..
Ski Dombay
One of the main tourist destinations of modern Dombai is the opportunity to go skiing and snowboarding. The sports season in Dombai starts at the end of November, when a stable snow cover is established, and the air temperature drops to -3 degrees. The slopes in the resort can satisfy the needs of the most advanced athletes, and «green» newbies. By the way, schools of skiing and snowboarding skills work at the services of the latter in the winter season on Dombai. Experienced instructors give both collective master classes and individual lessons.
Nature trails
Fans of hiking and excursions in the mountains prefer the summer season in Dombai, when you can walk to the most famous sights of the Teberda nature reserve. Natural beauties are even included in the UNESCO World Heritage List. Summer weather here allows you to stay in the open air comfortably: the temperature does not rise above +25 degrees even in July, and dark glasses, hats with brims and cosmetics to protect the skin save from the bright sun.
In Dombai, you can arrange a beach holiday. There are several mountain lakes on its territory, the water in which at the height of summer warms up to +20 and even more degrees. There are sunbathing areas, changing rooms on the shores of such reservoirs, and cafes and restaurants with dishes of the national Caucasian cuisine help to make the rest full and comfortable..
Photos