Tours to Krasnaya Polyana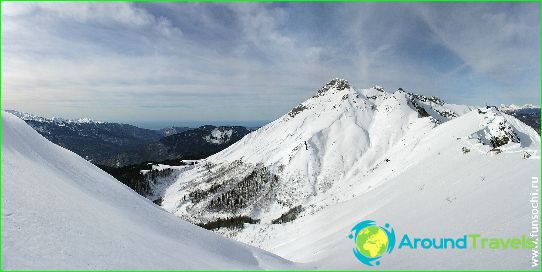 This modest village in the Krasnodar Territory gained worldwide fame after the Winter Olympics 2014 held in Sochi. more modern look.
History with geography
Krasnaya Polyana is a village in the Caucasus Mountains, located just 40 kilometers from the Black Sea coast. It is reliably protected from strong winds and weather troubles by the Aibga ridge and Mount Achishkho. Once upon a time, mountain Abkhaz tribes lived here, and in May 1864 this place witnessed a parade and a solemn prayer service on the occasion of the end of the war in the Caucasus. The place was named Romanovsk, and five years later the village of Romanovskoye was founded here, renamed in 1920 into Krasnaya Polyana.
Briefly about the important
You can get to the ski resort through Adler or Sochi, with which Krasnaya Polyana is connected by an excellent highway and railway.
The skiing season for participants in sports tours to Krasnaya Polyana begins in mid-December and lasts until the first days of April. If the weather brings rainfall, snow cannons provide the required quality of the slopes. The air temperature even at the height of winter does not drop below -5 degrees, while the number of sunny days is quite impressive.
The uninterrupted transportation of skiers and snowboarders to the starting points is provided by three lines of the gondola-type cable car and one six-seat cable car. Thanks to such modern and high-tech equipment, there are no queues at the lifts.
Tours to Krasnaya Polyana are increasingly booked not only by skiers, but also by fans of snowboarding. For the Olympics, an Extreme Park was erected at the resort, in which those who like to get their adrenaline rush on the board can prove themselves. There is a snowboard park and a freestyle center for boarders. Technically advanced devices for honing complex elements in Extreme Park allowed the resort to become one of the first places in Europe in terms of training for boarders..
Ideal conditions in Krasnaya Polyana are created for off-piste recreation. There are comfortable hotels in the resort, the prices of which are pleasantly different from the cost of rooms in European resorts. Those wishing to purchase tours to Krasnaya Polyana do not need passports, knowledge of foreign languages ​​and currency, and therefore you can go on a trip without special preparation.
Photos