Holidays in Cyprus in April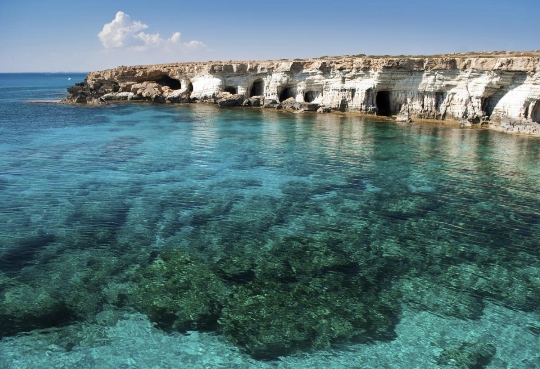 Cyprus is one of the hottest countries in Europe, because it is located in the subtropical climate zone. April is characterized by pleasant weather conditions, which is why it is the month of the official start of the holiday season..
April weather in Cyprus
In early April, in Paphos and Limassol, the air can warm up to + 21 ... + 22C in the afternoon and cool down to + 10 ... + 11C in the evening. Daily temperature fluctuations in the third decade are + 12 ... + 23C. In Nicosia and Larnaca in April, temperature fluctuations are + 11 ... + 23C, and a little later + 13 ... + 25C. In April, the level of ultraviolet radiation has not yet reached its peak. Forecasters note the possibility of three to six rainy days a month.
In April, there are dust storms in Cyprus that come from the African continent. Dust storms do not happen every year, and if they do occur, they soon subside.
Holidays and festivals in Cyprus in April
April has a variety of festivals and holidays.
On the first day, it is customary to celebrate a national holiday in honor of the beginning of the liberation movement against the colonialists from England..
In the second decade of April, the Tulip Festival is held in Polemi, attracting tourists from all over the world. By this time, beautiful valleys of blooming tulips can be seen in Cyprus. The festival program includes performances by folk groups, dancers, a festive lunch.
Easter is often the main event in April. Cypriots try to celebrate Easter with special warmth. Celebration traditions are reminiscent of Russians. Among the most important events is the Procession of the Cross. At night, during the liturgy, bonfires can be seen on numerous streets. Cypriots organize fireworks every year. Only the next day is Easter celebrated in the family circle.
Prices for tours to Cyprus in April
Few tourists come to Cyprus in April, but prices are already getting higher. When planning a vacation in Cyprus in April, be prepared for the fact that the costs will be 20% more compared to previous months. Despite the significant rise in price, vacation will be cheaper than in summer.
How to relax in Cyprus (part 1)

Photos of holidays in Cyprus