Cyprus cuisine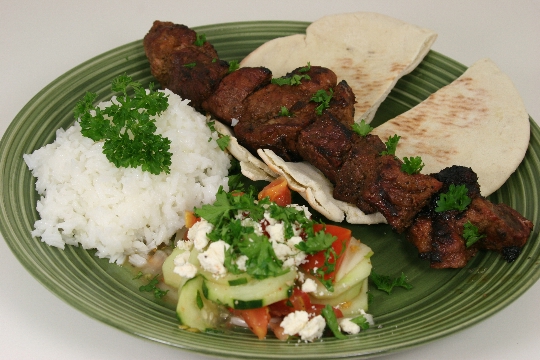 Cyprus cuisine is Mediterranean cuisine influenced by the culinary arts of Turkey and Greece.
National cuisine of Cyprus
The basis of the Cypriot cuisine is made up of meat and vegetable dishes. An octopus is considered a seafood delicacy - on the island it is grilled, stewed in wine or marinated for snacks. It should be noted that charcoal grill is a common way of preparing Cypriot dishes..
In Cyprus, it is customary to serve different sauces with dishes, for example, dzatziki (yogurt sauce with mint, garlic and grated pickles), taramasalata (main ingredients: pollock roe, mashed potatoes and olive oil) and tahini sauce (the composition includes sesame seeds and lemon juice).
Popular Cypriot dishes:
"stifado" (beef baked with young onions);
"kleftiko" (leg of lamb with oregano and bay leaves, baked in a clay pot);
"moussaka" (a dish of minced meat, which is baked with vegetables and poured on top with a sauce of sour cream and beaten eggs);
"sheftalia" (grilled meatballs with spices);
"aphelia" (pork seasoned with coriander and marinated in wine).
Where to taste the national cuisine?
It is recommended to try in local establishments "meze" - fish or meat platter. So, for example, ordering fish meze, you will be served small plates, each of which will be lined with small pieces of shrimp, squid, cuttlefish, fish soufflé and different types of fish. All this gastronomic variety is also served with white bread, Greek salad, local sauces and olives (such a dish is usually ordered for two and costs about 20 euros).
Vacationers in Paphos can look into "Mandra tavern" (the institution specializes in fish meze and beef dishes), in Larnaca - in "Black turtle" (the tavern pleases visitors with fish meze served on 20 plates and live music), in Limassol - in "The vine leaf" (this tavern serves souvlaki and other meat dishes), in Nicosia - in "Zanettos" (the institution offers to enjoy Cypriot sausages, chaloumi cheese in pita, veal liver). Tip: when ordering a main course, there is no need to worry about the side dish, as the price of the dish usually includes salad, bread and sauces..
Cooking courses in Cyprus
If you want to get to know Cypriot cuisine better, then in Paphos you will be offered to attend classes, during which the local chef will reveal to you the secrets of cooking national dishes, teach you how to cook some of them, and also introduce you to local culinary traditions..
If you are not interested in taking part directly in the cooking process, but only in their consumption, then a gastronomic tour of the villages of Cyprus will be organized for you (you will taste various national dishes).
A trip to the island can be matched to the Cyprus Fiesta gastronomic festival (Limassol, July) - guests will have presentations, master classes and tasting a variety of dishes.
Photos