Beaches in Paphos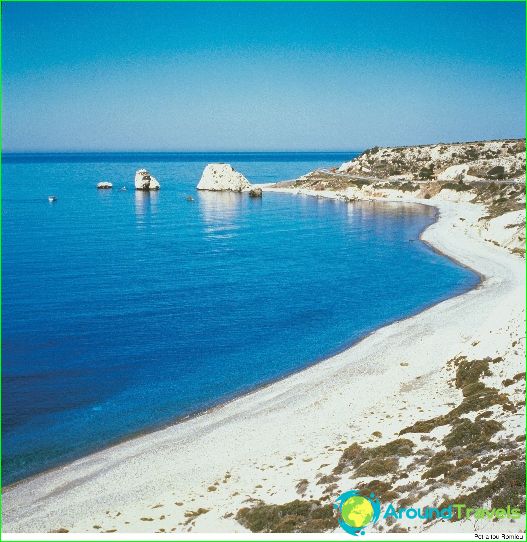 There are several equipped beaches near the Cypriot city of Paphos, however, the vast majority of them are pebbly. It may not be so convenient to walk on pebbles, but it has one indisputable advantage - after relaxing on such a beach, you do not have to shake off the sticky sand. Therefore, the topic of our review will be the beaches of Paphos..
When it comes to Lara Beach, there are actually two different beaches hiding under this name. They are not even located nearby, but on both sides of the Akamas Peninsula. These places in Cyprus are considered a nature reserve, therefore, you will not see either hotels or sun loungers here. In addition, there is a ban on making fires, etc. You can get here only by a dirt road. This is a reserve for endangered giant green turtles. If someone is lucky, he will see a one and a half meter sea inhabitant, who has already turned 150 years old..
There is no usual asphalt, so employees of travel agencies are in a hurry to tell everyone about the off-road, overcome only by vehicles with increased cross-country ability. However, do not rush to embark on a survival race in off-road vehicles, since this road, although uneven, but it is quite possible to overcome it in a city car..
From the name of Aphrodite, the Cypriots have made a real brand under which they serve the inexpressive bay of Petra tou Romiou to tourists. The fact is that according to myths, the ancient Greek goddess was born here. To be born «foam marine», she couldn't think of a better place than a pebble beach. And our enterprising contemporaries have come up with accompanying signs that if you swim in a certain direction several times, then a specific desire will come true. You can start the swim only by joining the proposed game, but it is still worth paying respect to the main symbol of the island.
The tour in honor of Aphrodite starts from the Greek Stone. There are women who want to rejuvenate. Men are encouraged to do the same to become invincible. If a couple in love is sailing, there is a belief that after that they never part. Further, the path lies to the Sanctuary of Aphrodite. It is better to visit Aphrodite at night in order to avoid the daytime rush hour.
In the village of Latchi at the base of the Akamas Peninsula, there are two more large pebble beaches. Like most beaches in Paphos, they are rocky and have an inconvenient descent to the water..
But where are the best sandy beaches of Paphos? The coveted sand is easily accessible from the city by bus in just 15 minutes. The most comfortable beach in the vicinity of the city is Coral Bay. There are so many taverns and small restaurants, besides there are sun loungers and umbrellas. However, it can get quite crowded here during the high season. The other side of the bay is called Corallia Bay. She was chosen by surfers. Nearby there is the famous Bird Park.
Photos of Paphos beaches