Water parks in Protaras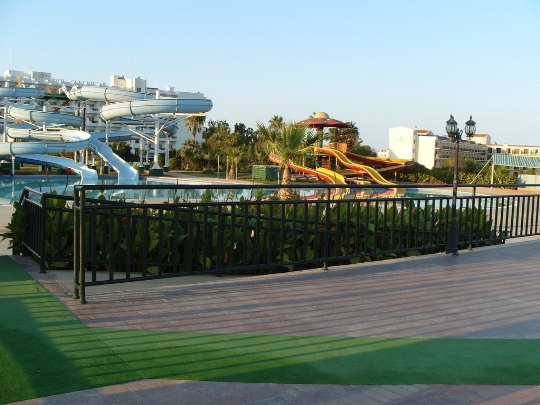 Protaras is able to please its guests with the presence of many entertainments, in particular, a small water park located not far from the hotel "Smartline Protaras" (former hotel "Paschalia").
Water parks in Protaras
Aquapark "Fun Park Waterpark" has:
"lazy river", swimming pools, in particular, large and children's;
11 water slides;
sun loungers on which you can sit to relax and sunbathe;
cafe and gift shop.
Prices: 1 visit for adults will cost 17 euros, and for 3-11 year old children - 10 euros.
If you wish, you can visit one more water park - "Anastasia aquamania" (it is located next to the hotel "Anastasia Beach"): the cost of an adult admission ticket is 14 euros, and for children (3-12 years old) - 7 euros.
Water activities in Protaras
Would you like to stay in a hotel with a swimming pool? pay attention to "Palm Village Villas", "Capo Bay Hotel", "Vangelis Hotel Apartments" and other hotels.
On vacation in Protaras, it is worth taking a look at the Ocean Aquarium - in this oceanic aquarium, visitors can "chat" with crocodiles and alligators (caimans, Nile, Siamese), sea turtles, black-footed penguins, clown fish, piranhas, eels, crabs, as well as exotic birds. Adults can enter here by paying € 13 and children € 7.
Beach lovers should head to Flamingo Beach for paragliding, boat, banana or water skiing. Due to the shallow sea, clear water and the absence of rocky slopes, tourists are recommended to relax here with their children. And since pleasure steamers in the form of a pirate schooner and an excursion boat with a transparent bottom run in the water area of ​​this beach, you should not deny yourself the pleasure of using their services (prices for sea cruises vary from 10 to 40 euros), as well as the services of a massage parlor.
If you consider yourself an extreme divers, then you should take a closer look at Cape Greco - here you will have the opportunity to jump into the water from a height.
Another remarkable place for tourists is the bay "Green bay": here you can not only swim, enjoying the sandy bottom, but also dive (there are 2 convenient bays for diving divers) to see a variety of fish and visit "underwater park", which contains fragments of ancient amphorae, ancient statues, in particular, sculptures of Apollo and Aphrodite (once these sculptures were deliberately flooded here by divers). If we talk about the cost of entertainment, then you will have to pay at least 70 euros for it..
An interesting Liberty Shipwreck for divers may be the site of the Liberty shipwreck..
Photos