Attractions in Ayia Napa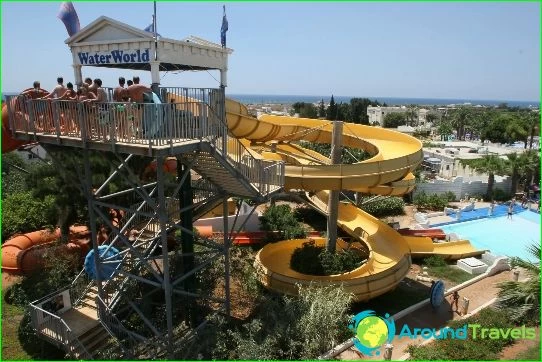 «Second Ibiza» - this is how the popular resort of Ayia Napa is often called. Warm shallow sea devoid of life-threatening fauna, wide golden beaches and numerous attractions in Ayia Napa make this city a very attractive place for families. Well, modern nightclubs, bars and discos, in turn, attract young people who crave sharp entertainment. So a visit to this resort can be recommended to absolutely everyone..
Local amusement park
As you might expect, such a lively place simply couldn't fail to have a good amusement park. True, experienced fans of extreme sports may be disappointed, because most of this amusement park is focused more on families with children. However, their own «scary» rides are also available here. What are the famous «catapult» and «slingshot», who can shake the soul out of any daredevil.
In total, you can find here:
waterslides;
Ferris wheel;
several dozen attractions;
karting;
swing / carousel;
a lot of cozy cafes and restaurants.
Aquapark «Water World»
Another must-see place. This famous attraction is not just a water amusement park, but a real mini-country stylized as antique myths. At the moment, Vodny Mir bears the title of the largest water park in Europe, so there is no need to fear that it will be boring here. There are so many entertainments here that it will take all day to try everything. Fortunately, it is possible to rent a personal locker for things, so as not to run after everything you need to the hotel..
The park is open every day from 10.00 to 18.00, the price of an adult ticket is 33 euros, for children (3 - 12 years old) - 19 euros. Has its own official website http://www.waterworldwaterpark.com/.
Bungee on Nissi Beach
A real find for extreme lovers. In general, on this beach you can find various entertainments, such as banana boat rides, water skiing or not a boat trip, however, the bungee is, as they say, the main highlight of the program. Jumping here is done both during the day and at night, and depending on how thrill the daredevil wants to experience, he can either stop above the water itself or partially plunge into it. The height of the jumping tower is over 50 m.
Photos of attractions in Ayia Napa