Wines of Cyprus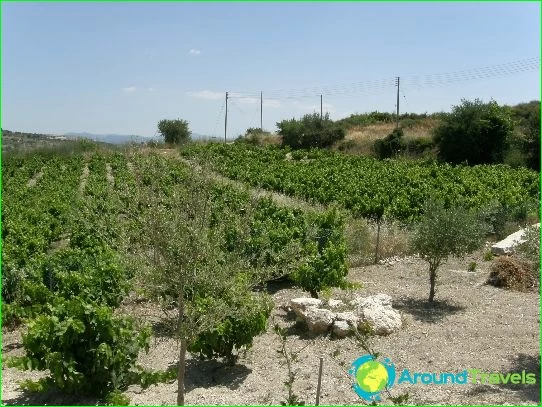 The history of Cypriot winemaking has more than a dozen centuries. Historians and archaeologists believe that the first attempts to obtain wine on the island date back to the 4th millennium BC. The industrial foundation for winemaking in Cyprus was laid down in the middle of the 19th century, when the first winery appeared to supply the product to the local and international markets on an industrial scale. Since then, Cyprus wines have been an integral and significant part of local exports..
About the legendary Commandaria
Wine connoisseurs, at the mention of the name of the island, dreamily smile and instantly imagine a glass of aromatic Commandaria - a rich brown dessert drink, in which notes of honey, caramel, raisins and even cinnamon are clearly guessed. This wine of Cyprus is the most famous. It is used in religious ceremonies and is drunk at weddings and anniversaries. Not a single event in Cyprus is complete without Commandaria, and therefore this product can be recommended to tourists as a traditional souvenir. Delightful Commandaria is best paired with goat cheeses produced here in Cyprus.
Wine tours to Cyprus
This vacation option is becoming more and more popular among Russian tourists. On the island of Aphrodite, in addition to the cleanest beaches and antique amphitheaters, there are wineries, excursions to which can be more entertaining and more interesting than other trips.
Experienced oenologists are familiar with wine production in Cyprus. Wine specialists tell guests in detail about the technology of growing grapes and the process of making drinks. Guests of the wineries are shown equipment and are shown the famous cellars where the best wines of the sunny island are aged.
Special wines
Due to the climatic features of Cyprus and its hot climate, the grapes grown on the island are rich in sugar. This allows the wines of Cyprus to be especially aromatic and somewhat stronger than in other regions..
White wines on the island are traditionally made from the Xynisteri variety. Aged for at least six months in oak barrels, Petritis Xynisteri has a delicate woody aroma, which contains pineapple notes.
Among the red wines of Cyprus, the true king is Maratheftiko, which is similar to Shiraz. Its deep purple hue and solid strength are complemented by aromas of cherries and truffles and a cinnamon aftertaste..
Photos