Traditional Cyprus cuisine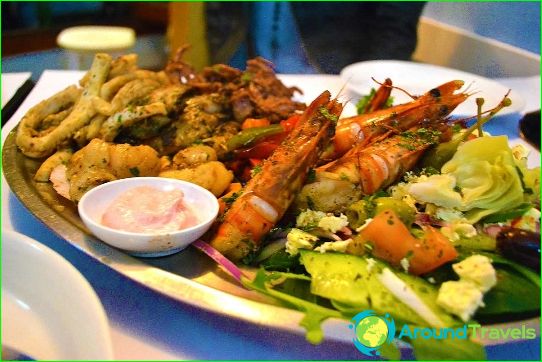 Food in Cyprus is varied and of high quality. Here you will find only fresh products, the best beef, pork, fish and game.
It is worth noting that Cypriots live 20 years more than Russians, and this is because their diet contains fresh vegetables and high quality products..
Food in Cyprus
Cypriot cuisine is based on Mediterranean and Oriental culinary traditions.
Popular dishes in Cyprus - meze (all kinds of snacks), Greek salad, kebabs, seafood dishes, dolma, tava (stew with herbs), stifado (beef stew with the addition of spices, onions, wine and vinegar).
Where to eat in Cyprus?
At your service:
- restaurants and taverns (where you can order dishes of Cypriot, Japanese, Greek, Russian, Thai and other cuisines);
- cafes and eateries (although there is also a limited range of dishes, you will be served quickly and fed with delicious food).
It is worth noting that many Cypriot restaurants offer their guests after dinner to enjoy coffee and sweets at the expense of the institution..
Drinks in Cyprus
Popular drinks in Cyprus - coffee, orange juice, frappe (a cooling drink based on coffee, milk, water, sugar and ice), zivania (Cypriot whiskey), ouzo (anise vodka), cognac, wine.
Cyprus is famous for its wineries: the most famous are in the Troodos mountains and between Limassol and Paphos (the villages of Zinona, Fikardou, Kilani, Omodos).
The island invites its guests to go on special wine excursion routes - do not miss this opportunity. So, you can visit large wineries (Sodap, Keo, Loel) and taste various wines (Olympus, Nefeli, Pentelemon, Arsinoe), which are made from local grape varieties (Carignan, Mavro, Maratevtiko).
In honor of wine in Cyprus, in Limassol, a Wine Festival is organized, the duration of which is 10 days (August-September). This massive celebration is accompanied by concerts, shows, comedy performances and, of course, drinking wine.
Gastronomic tour to Cyprus
Gourmets will love the gastronomic tours to Cyprus. You can go to Pereklisia (Limassol): in this village you will learn the secrets of the tomato specialties and taste other goodies of the local cuisine. In addition, here you will be treated to wine from the barrels of the Hadjiantonas winery.
You can taste chocolate masterpieces by visiting a chocolate factory located in the village of Platres.
Since only in Cyprus it is allowed to produce halloumi and anari cheeses (their recipes are patented), a trip to Cyprus is a great opportunity to taste them, making a trip, for example, to the Mesarka factory (Afienou village).
Visiting the sunny island of Cyprus, you can enjoy the aromatic Eastern Mediterranean cuisine.
Photos of national dishes of Cyprus