Prices in Karlovy Vary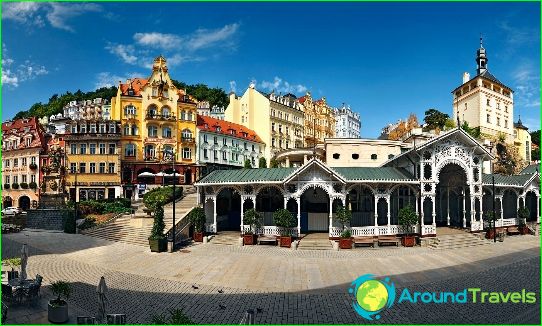 Karlovy Vary is one of the best Czech resorts. This place is located 120 km away from the capitals of the country. The resort is considered curative, as there are many mineral springs, clinics and sanatoriums. The prices in Karlovy Vary are reasonable compared to other health resorts. The cost of wellness treatments is available for people with different income levels. Pensioners are actively coming here, as the prices for treatment are low..
How much does a trip to Karlovy Vary cost
In boarding houses and sanatoriums of the resort, vacationers are provided with quality rest. The procedures there are selected individually. A ticket to Karlovy Vary with a flight from the Russian capital costs about 25-35 thousand rubles a week. The low season is the period from late November to February. During this period, the small town looks charming, although not as attractive as in the summer. Prices for treatment in winter are 1.5-2 times lower than in other seasons. If you are interested in quality treatment procedures, use this opportunity. For little money, you will receive a full range of wellness services. It is recommended to be examined and consult a doctor before the trip. A specialist will tell you if a therapeutic stay in Karlovy Vary is suitable for your body.
Some hospitals prescribe treatments for patients who live outside the hotel. They visit the hospital at a certain time. The most expensive accommodation is in prestigious hotels with additional services. It is much cheaper to live in apartments (apartments specially designed for vacationers). Two- and three-room apartments in the city center cost from 35 euros per day. Having rented an apartment in Karlovy Vary, vacationers feel more free, as they are not tied to the daily routine, as in a sanatorium or hotel. For an additional payment, the owners of the apartments can clean the premises and provide residents with food.
Food in Karlovy Vary
There are restaurants in the city that offer inexpensive and delicious food. Therefore, it is not necessary to book a place in a hotel with meals. Tourists can rent apartments with a kitchen. This option is suitable for those who want to cook on their own. Food prices in Karlovy Vary are lower than in Russia.
Things to do in Karlovy Vary
In addition to wellness treatments, vacationers visit the sights of the resort. By purchasing a sightseeing tour of the Czech Republic, you can visit other cities of the country. There are tour operators in Karlovy Vary that offer tours to Austria, Germany, France and other countries. You can visit interesting places on your own if you rent a car. A sightseeing tour of Karlovy Vary costs at least 40 euros.
Photos