Independent travel to Karlovy Vary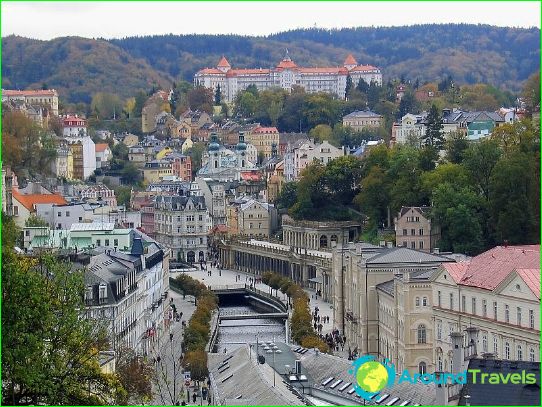 For several centuries, the most famous Czech spa has been treating its visitors not only with healing waters from Carlsbad springs, but also with a cordial attitude, comfort and an excellent cultural and entertainment program. It is not for nothing that many generations of Europeans have loved and love "rest on the waters".
When to go to Karlovy Vary?
The best time to travel to Karlovy Vary is, of course, summer. It does not get too hot here, and therefore a vacation at the resort is suitable both for couples with children and for travelers of the "golden" age. However, treatment in winter here has its advantages too - hotels significantly reduce prices for accommodation and procedures due to the lack of a large number of guests..
How to get to Karlovy Vary?
The airport in Karlovy Vary accepts many flights, including international ones. The city can be reached by bus or taxi. Travel time will be no more than 20 minutes.
Housing issue
Hotels in Karlovy Vary offer a huge variety of prices, conditions and included options. There is only one thing here - a high level of service and a caring attitude towards each guest. That is why even tourists who have chosen a modest family boarding house can count on the attentiveness of the staff and ideal living conditions..
Argue about tastes
Czech cuisine is the basis of the menu of Carlsbad restaurants and cafes. For gourmets, this is a real paradise, and the quality of the dishes served depends little on the status of the institution. After lunch it is worth ordering a glass of the famous "Becherovka", which is called "the fourteenth mineral spring" here..
Informative and fun
The main attraction of the resort is its mineral springs. In Karlovy Vary, you can get rid of a whole bunch of diseases, strengthen the general condition, lose weight and get prettier, cleanse the body of toxins and toxins. As a cultural program, the main Czech resort offers walks in picturesque surroundings, excursions to Mount Angelica, where the ruins of a medieval fortress have been preserved, and trips to the country's capital, ancient and forever young Prague..
A great opportunity to have fun is attending one of the many festivals held in Carlsbad. In the summer, a classical music festival is held here, where the works of Mozart are played, a folklore festival is held, and a jazz festival starts in the fall. World celebrities and local talents become guests and participants of the events.
Photos of the trip to Karlovy Vary