Christmas in Copenhagen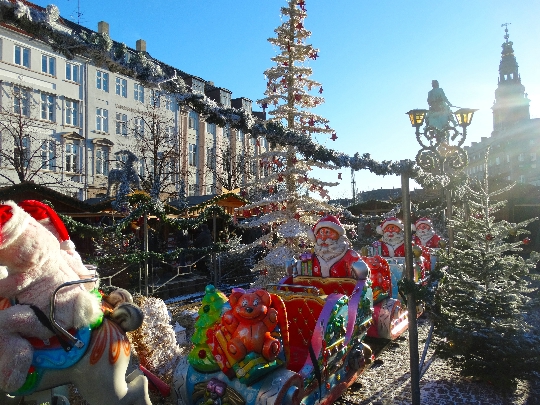 Resting on Christmas in Copenhagen, you will understand why this city is called the city of winter wonders - at this time it will be interesting for both youth companies and married couples with children..
Features of celebrating Christmas in Copenhagen
Officially, the Danes begin to prepare for the holiday on the first Friday in November - at this time, sweetish dark Christmas beer is released, the streets (the smell of fried almonds is everywhere, which is sugared in syrup barrels) and shops are being transformed by festive decorations, and the mayor of the city lights the lights of a large fir (it is decorated with straw goats and figurines of the heroes of Andersen's fairy tales) on the Town Hall Square.
The Danes sit down at the Christmas table at 19:00 and are treated to baked pork, duck or turkey, as well as herring. Going to a Christmas dinner in one of the Danish restaurants, you will be treated to duck with red cabbage, glazed ham, pork, baked potatoes, and as a dessert you will be served almond rice pudding sprinkled with warm cherry-based sauce (the chefs hide inside "for luck" nut). And as entertainment, a show program with live music will be waiting for you.
Entertainment and celebrations in Copenhagen
When you find yourself in Copenhagen during the festive period, you should visit the Christmas performances in New Harbor, as well as go for a ride on the ice rink on the lake in Tivoli and admire the light show here in the evening. You will also find another ice rink on which you can go ice skating at Kongens Nytorv Square..
It is worth noting that in December, from 26 to 31, everyone will have a chance to visit the Fireworks Festival (the place of the pyrotechnic show is the Tivoli amusement park).
Tourists from the end of November to the end of December are recommended to visit Amagertorv Square - an annual exhibition will be open here "Christmas tables".
Christmas markets in Copenhagen

Christmas market in Tivoli Park, decorated with colorful garlands (November 20 - December 30, 11:00 - 22:00): here you can get Danish souvenirs such as designer candles and sweaters with national patterns, and sweets in the form of muffins and donuts with apples or black currants (at the guests' disposal - a variety of stalls and kiosks). And walking along the park paths, you can meet Santa Claus and fairy elves.
Christmas market next to the Royal Cafe: here guests will be offered to enjoy festive sweets - pastries with cinnamon, ginger and chocolate cookies (you can drink mulled wine or hot chocolate).
Christmas Food Market at Fuglebjergaard Farm (45 minutes from Copenhagen): Buy organic food and see the production of Danish delicacies.
Christmas market in the Christiania area (December 10-20): here are exhibited for sale the creations of folk craftsmen in the form of handmade soap and candles, warm knitwear, sweaters, designer jewelry. In addition, those who wish are offered to taste exotic dishes here..

Photos