Season in Hurghada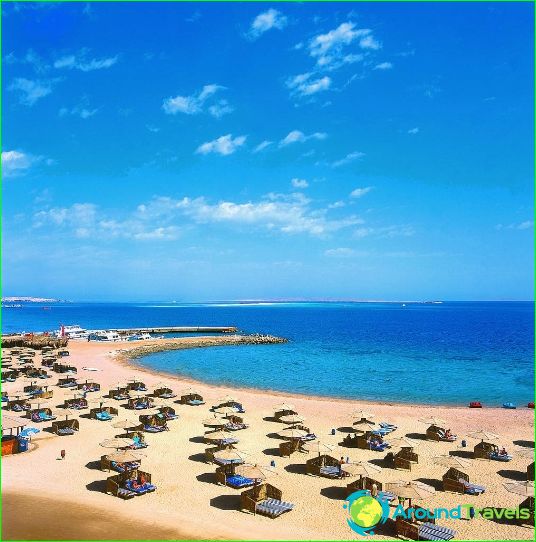 Once a small village for oil workers, the Egyptian Hurghada has rapidly gained momentum in the tourism market and began to receive hundreds of thousands of tourists every year from all over the world. Its popularity is due to many factors, including attractive hotel prices, excellent diving opportunities, and a variety of excursions. Another important fact is that the beach season in Hurghada lasts all year round, allowing you to spend both summer holidays and Christmas holidays here..
There is no bad weather
For Hurghada, this statement is very appropriate. Its beaches are always sunny, and the tropical desert climate allows you to fully sunbathe throughout the calendar year. Precipitation here is a very rare phenomenon, as an exception, it sometimes rains in winter. The air temperature on the beaches of Hurghada in January-February usually does not exceed +22 degrees, but sunbathing here during the daytime is not only possible, but also very pleasant. In the water, the thermometer in winter shows no more than +20 degrees, so that only the most hardened water procedures are accepted.
The complete opposite of the winter period is the summer season in Hurghada. In June-August, the thermometer, even in the shade, often overcomes the 40-degree mark, and the water in the Egyptian sea warms up to a record +30. During such a period, you should not sunbathe at midday, and sunbathing even in the morning is important to accompany the application of skin products with a high protective factor..
Perfect vacation
The best seasons in Hurghada are spring and autumn. From the end of March to the beginning of June, pleasant warm weather with moderate temperatures prevails in the city. In the afternoon, they can reach +32 degrees, but most of the day it is easy and comfortable to be on the beach. The sea in Hurghada in spring warms up to +25 degrees, pleasantly refreshing bathers and allowing them to observe the rich underwater world of the resort for a long time.
Second wave «high» the season begins here at the end of September and lasts until the last days of autumn. The air temperature in the autumn season in Hurghada fluctuates around +28 degrees, and the water in the Red Sea remains warm and pleasant to relax even with small children. During these months, long excursions to the sights of Egypt do not cause problems, but staying in the open sun during travel and walks requires clothing that covers open areas of the body and skin protection.
Photos