Taxi in Sharm El Sheikh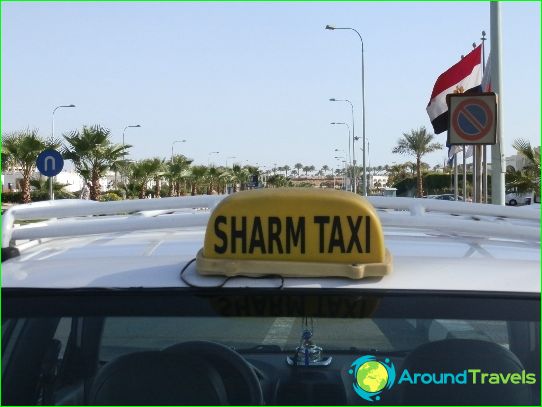 Taxis in Sharm El Sheikh are blue and white cars. Since cars equipped with meters are very rare, the price should be negotiated before boarding (bargaining is appropriate).
Provision of taxi services in Sharm
Using the services of private and official taxis in Sharm is not a problem: drivers often wait for potential customers at restaurants and cafes, hotels, places of interest and wherever tourists like to walk. You can get in a taxi at special parking lots or by making a call from a mobile phone to 112.
Not all drivers speak English and know all the streets, therefore, for ease of understanding, the taxi driver should voice the landmark in the area you require. But if you do not know exactly the location of the place you need or it is difficult for you to pronounce its name, write the necessary information in Arabic on a piece of paper.
It is worth noting that, unlike hotel taxis, street taxis are not allowed near the hotel reception, they are often not equipped with air conditioning, and the drivers of such taxis can unceremoniously smoke, turn on loud music or religious chants, annoyingly ask about the life of passengers, and deliberately inflate the fare.
Hotel taxis in Sharm
Such cars work at hotels (to call a car, you must contact the administrator) and have a fixed price for travel (bargaining is not appropriate).
A hotel taxi will not only take you to the desired destination, but also, if necessary, will pick you up from there (you can exchange phone numbers with the driver or arrange for him to pick you up at a certain time).
How much does a taxi cost in Sharm El Sheikh
After reading the following useful information, you will find out the approximate cost of a taxi in Sharm el-Sheikh:
for a landing, which includes overcoming the first kilometer of the journey, you will pay approximately 3 Egyptian pounds, and for each subsequent km - 0.5 pounds;
late evening and early morning taxi ride will cost 40-50% more than the daily rate.
On average, a trip on the route Naama Bay - Hadaba costs passengers 30 pounds, Old Market - Ras Nazran - 60 pounds, Naama Bay - Old Market - 15-20 pounds.
If taxis have fixed prices, then you can find out the fare on popular routes by looking at the price stickers attached to the rear window of the car..
To pay for the fare, it is reasonable to have small bills, since drivers do not really like to give change, wanting to keep it for themselves (if desired, the fare can be rounded up a little to thank the taxi driver for the service).
Sharm El Sheikh's roads are in good condition, so getting a taxi can be a pretty pleasant ride..
Photos of taxi in Sharm El Sheikh