Holidays in Egypt with children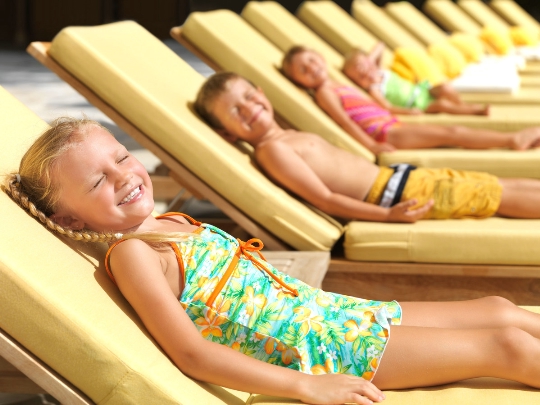 For a Russian tourist, rest in Egypt with children has long become one of the most popular options for spending a vacation or vacation. The Red Sea with its magnificent underwater world, the abundance of hotels specially "sharpened" for family vacations and the relative affordability make it possible to consider the country of pharaohs and pyramids a truly all-Russian resort health resort.
"Per"...
The advantages of spending a vacation in Egypt are familiar and obvious to everyone:
A short flight and the right season for holidays in Egypt with children will not cause discomfort, fatigue and long acclimatization.
The variety of the hotel fund will allow you to choose a hotel not only within your means, but also the most suitable for settling with young tourists.
The Red Sea is an ideal natural attraction and the main attraction, which is already enough for an exciting pastime.
A huge number of ancient architectural monuments will not allow even teenagers to get bored on vacation and will help them to improve their knowledge of the school curriculum in history.
...or "Against"?
Some disadvantages of a beach holiday in Egypt with children can be completely avoided by the correct choice of the season, resort, hotel and simply increased attention to detail and compliance with basic rules of personal hygiene and safety.
Preparing properly
The best season for a holiday in Egypt with children is spring and autumn holidays. In the height of summer, it can be too hot here, and in July-August, the sun is especially merciless on children's delicate skin. That is why a traveler's first-aid kit should contain burns in the most extreme case. You should use sunblock with a high sun protection factor on vacation with children as often as possible. Do not neglect panamas or hats..
When buying freshly squeezed juices for your child, do not ask to add ice to the glasses, if this happens not on the territory of the hotel. The best hand sanitizer is wet wipes or a special gel, which should be used as often as possible..
Passwords, appearances, addresses
Hurghada is the undisputed leader among local resorts in terms of the number of purchased travel vouchers for holidays in Egypt with children. The reason for this choice is simple - the beaches of Hurghada have a sandy entrance to the water, which is optimal for kids, without sharp corals. This does not prevent the bright fish from grazing along the coast in the hope of getting delicious crumbs from the buffet, which means that the Red Sea has enough entertainment in this part of the Egyptian Riviera..
Photos