Railways of Egypt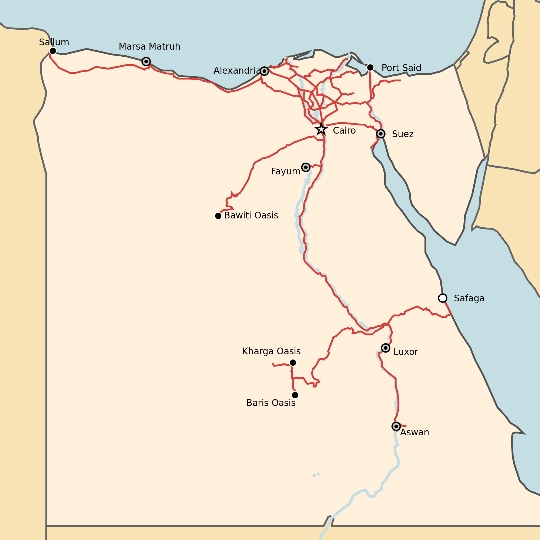 Egypt's railways are administered by the Ministry of Transport and other government agencies. A developed rail network is located in Cairo and suburban areas. It also covers settlements along the banks of the Nile.
The transport system of Egypt is going through hard times and needs modernization. The declining transport sector is hampering economic development. The government today actively attracts funds from banks and companies. Many projects are expected to be implemented in the form of partnerships between individuals and the state. It is planned to connect Cairo with the main resorts and ports of the country.
Condition of railways
In the transport sector of Egypt, the first place is given to airlines. They are used for local and international traffic. Domestic air travel is expensive and the level of service is poor. For these reasons, Egyptians and foreigners do not enjoy Egyptian air transport. One of the best ways to get from one locality to another is by train. They allow you to get to the desired city inexpensively and comfortably. The train is the most reliable Egyptian transport. Egypt's railway system is considered the oldest in the Middle East. The first branch was opened 150 years ago, connecting Kafr Issa with Alexandria.
Railways run along the Nile delta and valley, along the Sinai Peninsula, the coasts of the Mediterranean and Red Seas. The main line is about 480 km long and runs between Aswan and Alexandria. The railway system is now owned by Egyptian National Railways. The disadvantage of the system is the poor technical condition of the tracks, locomotives and wagons. At the same time, the train remains the most economical means of transportation around the country..
Conditions for the passage of passengers
The inhabitants of the Nile Valley actively use the services of the railway sector. You can view routes and tickets at ticket.turistua.com. Egyptians prefer to take sleeping places in first class. Therefore, tourists usually get seats in luxury sleeping cars, which are expensive. You can buy a ticket directly on the train from the conductor. But in this case, the risk remains that there will be no empty seats in the carriage. The cost of tickets for luxury seats is close to the prices for air tickets of a similar destination. The ticket price includes meals. Trains in Egypt are not punctual. Therefore, the timetable is considered indicative. Only the elite composition of Abela runs strictly according to the schedule, which moves from Cairo to Aswan.
Photos