Egyptian cuisine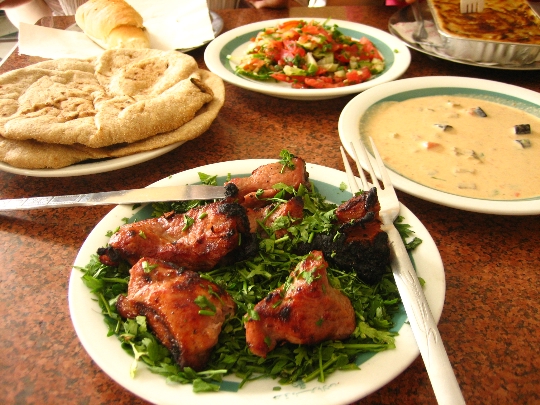 Egyptian cuisine is a cuisine influenced by the culinary arts of Turkey, France, Greece and other countries..
National cuisine of Egypt
In Egyptian cuisine, they are present as meat ("pas-terma" - beef jerky with spices, "mahvi" - dove dish) and vegetarian ("babaghanoug" - eggplant puree with garlic and sesame). Many dishes have a pungent taste as they are prepared using different sauces and spices. It is worth noting that beans, beans, peppers, eggplants, herbs are often added to Egyptian dishes. Vegetable dishes are usually a mixture of boiled or fresh vegetables, or a combination of meat and vegetables. And of the sweets, you should try the cake, which is boiled in milk, after which it is sprinkled with powdered sugar and nuts..
Popular Egyptian dishes:
"kalawi" (fried kidneys);
"full" (bean paste with lemon juice, pepper, salt and vegetable oil);
"shakshuk" (omelet with tomatoes and meat);
"tagin" (fish or meat dish with vegetables, which is cooked in pots);
"lentil" (soup with red lentils);
"magbus" (roast rice and beef).
Where to taste the national cuisine?
Even if you are staying at a hotel operating on the system "All inclusive", be sure to visit the eateries of traditional Egyptian cuisine (there are both inexpensive eateries and gourmet restaurants).
While resting in Hurghada, you can look into "Felfela" (the institution offers to try the Felfela salad, as well as mixedgrill of veal, sweater and lamb), in Sharm el-Sheikh - in "Tam Tam" (here guests enjoy barbecue, local bread and other traditional dishes, as well as fresh juices and juices), in Cairo - in "Abou el sid" (the house's signature dish is soup with chicken or rabbit meat with herbs and spices), in Alexandria - in "Mohammed ahmed" (here it is recommended to try ful, falafel, various Egyptian vegetarian dishes and soups). Tip: do not order drinks with ice in restaurants, as they often use ordinary tap water for ice, which at least is fraught with intestinal upset.
Cooking classes in Egypt
Those wishing to learn the intricacies of Egyptian cuisine, and at the same time taste the food, will be able to visit "The house of cooking" in Cairo, as well as culinary courses in Sharm el-Sheikh, which are conducted by the chef for hotel guests "Sunrise Grand Select Arabian Beach Resort". It is worth noting that the meal at the culinary courses, as a rule, ends with a tea party with sweets..
A trip to Egypt can be timed to coincide with the holding of the Festival of Russian Culture in Hurghada - a photo exhibition and an exhibition of folk art products, as well as culinary competitions will await guests.
Photos