Tours to El Gouna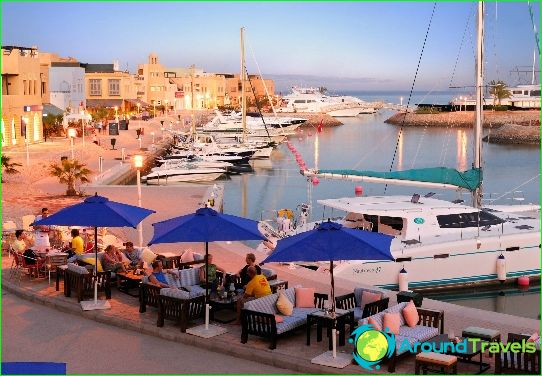 This Egyptian resort bears the unofficial and very romantic name "Pearl of the Red Sea", and in narrow circles among those who do not want to dive and sunbathe anywhere else, it is known as "Venice in the sands". El Gouna was awarded such unusual epithets for the special exoticism in the infrastructure. Everything in the resort is located on artificial islands, between which boats glide silently along the man-made canals. Europeans are especially fond of tours to El Gouna, but among the German and Dutch speech, you can often hear the Russian dialect.
History with geography
Participants of tours to El Gouna can use the services of Hurghada International Airport, because the resort is located 22 kilometers north of its terminals. El Gouna is the brainchild of the Egyptian nouveau riche Sami Sawiris, who in 1990 decided to build a fabulous city on the islands. For guests of El Gouna, all the conditions for a serene and romantic holiday have been created here. The beaches in the resort are very well-groomed, the hotels are comfortable, and as a pleasant addition there are golf courses and marinas built here..
I carry everything with me
Tour participants in El Gouna can appreciate the comfort of the local rest from the very first minutes of their stay at the resort. There is not only its own golf course and tennis school, but also a Christian church, an aquarium, a stable, a post office and even a history museum, which contains exact copies of all the famous treasures of ancient Egypt..
The beaches in the resort are sandy and very comfortable for families with children. The entrance to the water is shallow everywhere, and there are no dangerous currents here in any season. For the needs of the guests, the resort has its own medical clinic, where, among other services, you can get advice from a cosmetologist, nutritionist and a specialist in healthy lifestyles..
Briefly about the important

According to Egyptian traditions, the hottest month in the resort is August. At the end of summer, the temperature often goes off scale even over +40. It is most pleasant to relax at the resort in May or October, although some people prefer to book tours to El Gouna even in late autumn.
The creators of the resort are admirable, because El Gouna is the most environmentally friendly city on the Red Sea coast. El Gouna projects include self-sustaining garbage disposal, seawater desalination and waste recycling programs..
Photos