Christmas in Tartu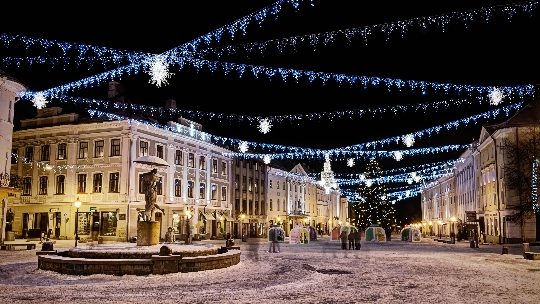 Everyone who decides to celebrate Christmas in Tartu will enjoy interesting performances and exhibitions, a street dance festival and a Christmas market.
Special features of celebrating Christmas in Tartu
Already at the end of November, Tartu prepares for Christmas - Christmas trees are set up and decorated, Advent candles are put on the windows, and Christmas dishes can be found on the menu of catering establishments.
On the eve of the holiday, Estonians read Christmas prayers. As for the Christmas feast, it is not complete without sauerkraut, pork, blood sausage and homemade beer on the table. Well, for tourists, a festive dinner can be organized in a restaurant. "Vilde Lokaal".
Entertainment and celebrations in Tartu
In December (on Sundays), it is advisable to visit the Town Hall Square to see how Advent candles are lit, to listen to children's groups and Tartu choirs, to take part in master classes and other events. And in 10 museums in Tartu, those who wish will be offered to make crafts and toys for Christmas with their own hands..
On December 20-21, residents and guests of Tartu can visit the disco (Disco of Christmas Gnomes) - it will be held by the Tartu School of Young DJs (venue - Town Hall Square).
During the Christmas period it is worth visiting St. John's Church to attend the Advent concert.
At the end of December, it is recommended that you and your children visit the Tartu Toy Museum for an exhibition "Christmas the other way around": Here you can see dolls living in toy rooms with upside-down firs and furniture. And if you wish, kind Christmas words can be written on the Christmas wishes wall (it is part of the exhibition).
Visiting the scientific and educational center "AXXAA", you and your children will have the opportunity to attend an interactive performance "Gnome Christmas Exam": you will see how the gnome decorates a room without electricity with lights, organizes fireworks or how he disappears for a few seconds in clouds of fog.
Those who wish can visit the Tartu Naitused center - in December (it is advisable to check the date in advance) its fair hall turns into a Christmas world with an exhibition of animals.
Christmas markets in Tartu
The Tartu Christmas market takes place on the Town Hall Square, where you can buy Christmas souvenirs and crafts from artisans, as well as enjoy Estonian Christmas dishes in the form of sauerkraut, ginger bread and warming drinks.
If you are not averse to a bit of a ride, you can head to the Alatskivi Castle Christmas market - here you can get handmade creations in the form of warm and practical things. Guided tours of the castle are organized for guests, and the artists cheer up with their art..
Photos