Where to eat in Marseille?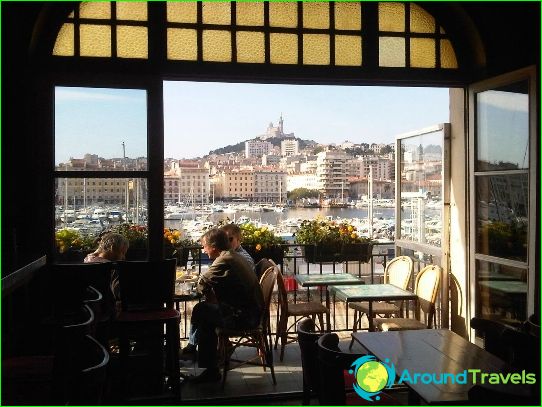 Question: "Where to eat in Marseille?" It is unlikely that travelers will have it on vacation in this French city, since there are about 700 catering establishments of various levels, where you can taste dishes of French, Indian, Pakistani, Italian, Lebanese, Tunisian, Armenian and other cuisines of the world.
Where to eat in Marseille inexpensively?
You can eat relatively inexpensively by visiting "Chez Fonton" - excellent bouillabaisse is prepared here, seasoned with Provencal herbs. Garlic sauce and croutons are served here. Besides, it is worth ordering fish baked in clay here.. "Le Bistro a Vin" - in this democratic place you can drink a glass of wine with various snacks. Another not very expensive place - "Le Caf des Epices": it will delight you with reasonable prices and delicious Mediterranean cuisine. Here it is advisable to try stuffed vegetables, pork with chanterelles, spaghetti with cuttlefish ink, scallops in a fragrant sauce.
Where to eat delicious in Marseille?
L'epuisette: perched atop a cliff, this cliff-top restaurant (using the freshest catch supplied by local fishermen) serves bouillabaisse (fish soup), grilled lobsters and shrimp terrine.
Abaco: This restaurant has a traditional French menu on the menu. Guests are treated to smoked homemade pork sausages with onions, pork tenderloin with caramelized sauce, duck breast with honey, apples and cinnamon.
Miramar: in this luxurious restaurant with a retro interior, you can enjoy fish dishes - 6-species bouillabaisse, lobster, burrida, grilled fish, steamed fish with seaweed ... once a month the chef of this restaurant for for everyone who wishes, he conducts a master class on cooking bouillabaisse.
Le Moman - This restaurant specializes in modern cuisine. Here it is recommended to try scallops with apples and corn, sole in orange confiture, rabbit with foie gras, veal with zucchini grains. In addition, here you can order food to go and enjoy the taste of various wines..
Gastronomic tours of Marseille
A gastronomic tour of Marseille involves a walk through the historical part of the city with a visit to authentic establishments, where you will be offered to taste local snacks, oysters, pastries, ice cream, a typical alcoholic drink - "pastis".
In addition to exploring historical sights, taking part in cultural events, and spending time comfortably on the beaches, in Marseille you can enjoy all kinds of seafood delicacies and dishes of national cuisine..
Photos