Airports in Paris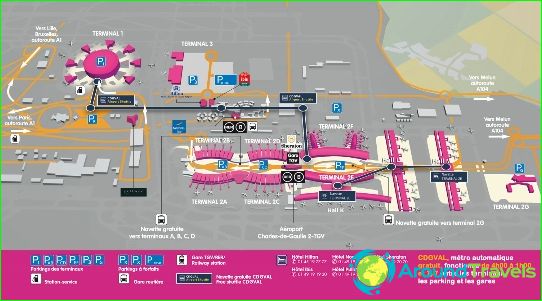 Paris is known for three airports. First of all, this is Charles de Gaulle Airport, which is considered the main French airport and is in the world ten in terms of passenger flows. Direct Russian flights, as well as interchange ones, arrive here. For Air France, this airport is considered the base.
Charles de Gaulle airport
The airport is located twenty-five kilometers from the capital of France and has eight terminals. All terminals are connected by vias. The second terminal has a RER station on line B, which allows you to comfortably travel to Paris itself. There is also a train station that connects the station with all major French cities, as well as Brussels. You can get around the terminals using the free metro. The fare to the capital is just over nine euros, and it takes thirty minutes to get to the city.
Orly airport
Another Paris airport is Orly. It is designed for domestic transport throughout the country. But there are also European flights here. The airport is located near Paris (only fifteen kilometers away). It has a couple of terminals. This airport is connected to the city via the RER line. You can get to the airport by buses.
Beauvais airport
Finally, the third airport in Paris - Beauvais, is located in Picardy. It differs from other airports in that it is a port for low-cost accommodation. The main carrier operating at this airport is Ryanair. But other companies also work here, offering, as a rule, low-cost transportation..
The airport is located eighty-five kilometers from the capital and cannot be reached by commuter trains or metro. However, by bus or taxi, you can get here without any particular problems. The airport operates with two terminals.
Traditionally, visitors are satisfied with the work of each of the three Paris airports. In addition, the airports themselves are constantly developing and modernizing, improving their own level of service, which is already high. Therefore, welcome to any of the Paris airports, and you will be able to independently evaluate the quality of the service offered here.!

Photos of Paris airports