Best restaurants in Paris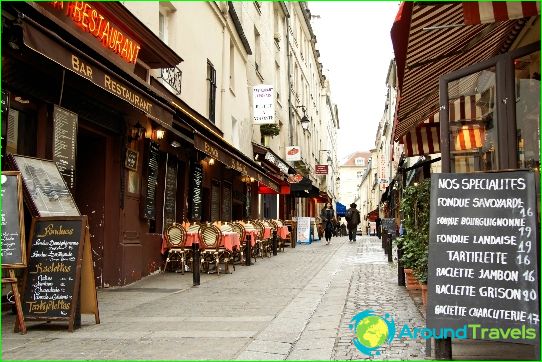 The capital of France is not only a trendsetter, it was here that the first restaurants appeared, where you can spend a very interesting time with friends, indulging in gastronomic delights. The best restaurants in Paris are still its hallmark today..
In the modern capital, catering establishments offer such a wide range of dishes that if you just try a small piece, your whole life may not be enough. Therefore, some tourists prefer exactly gastronomic tours to the capital, in this way getting to know this country..
Legend of Paris
The restaurant Le Grand V four received this definition from the guests of the city. And not only for its luxurious location - in the famous gardens of the Palais Royal. Everything here is striking from first glance to the last letter on the menu. The interior contains elements of the well-known style of the Directory era: elegant paintings on the walls; Empire style furniture; colored stained-glass windows; unique art and antiques.
Naturally, the cuisine matches such a chic setting - exquisite dishes, endless varieties of wine, breathtaking desserts.
Restaurant by Gerard
The super popular French actor Depardieu is known as a vineyard owner, producer and wine connoisseur. How can you not open one or two of your own restaurants in this situation? Its establishments are very popular with locals and travelers, not only because of the name of the owner. The quality of products, the range of dishes (especially seafood), friendly service - these are the criteria by which Depardieu's restaurants are considered one of the best in the country..
Bird's-eye
Another popular place in the capital is the restaurant located on the Eiffel Tower. Every Paris fan is honored to have lunch or dinner here. An unusual institution called Le Jules Verne is located on the observation deck of the building of the famous engineer, at a height of 125 meters. Every tourist who comes to this restaurant considers it his duty to raise a glass of delicious wine and say a toast in honor of this beautiful city, as well as the famous French writer Jules Verne, after whom this restaurant is named.
Paris and its restaurants are their own world, their secrets and discoveries. Someone prefers world-famous restaurants and names, someone a small cafe in Montmartre. The aroma of Paris can be tasted just by walking with a glass of coffee along the quiet streets and squares.
Photos