Cabaret of Paris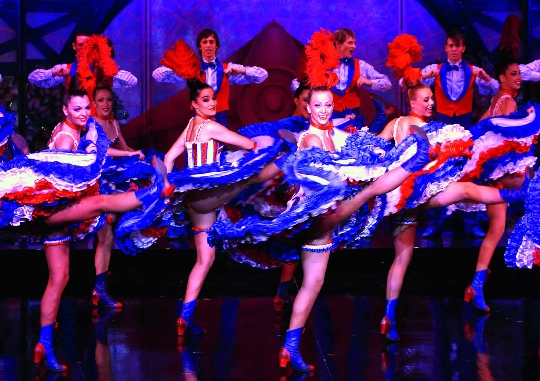 Luxury and brilliance, unbridled fun and secret desires, heady aromas and light bubbles of champagne in crystal glasses, enchanting light and breathtaking special effects - millions of emotions, colors, feelings and sensations mixed in the amazing cabaret of Paris. There is always a full house and an extra ticket at the entrance is useless to ask, because there are too many people who want to be at the eternal celebration of life!
Red Wings
This cabaret at the foot of the Montmartre hill first opened its doors in 1889 and immediately set the tone for all night Paris for many decades to come. Today, the Moulin Rouge is the most unusual format of an entertainment venue, where there is a little bit of a museum, a little bit of a brothel and a lot of a temple of art. A delicate taste reigns here, skillfully balancing on the verge of kitsch, and the interiors of the famous cabaret of Paris allow its guests to plunge into the former world of luxury, debauchery and nobility, which has irrevocably sunk into oblivion along with the last century..
You can feel nostalgic for times gone by at 82 Boulevard de Clichy, Paris.
Crazy Horses
The Georg V metro station is the closest stop on the Parisian underground from the establishment, where it is customary to come for a special mood. Cabaret Paris Crazy Horse gives emotions worth paying more than a hundred euros for a ticket and booking a table in advance. A dazzling show in old Parisian wine cellars transforms ordinary eroticism into art of the highest category.
Perfectly selected beauties are like two drops of water, and strip numbers performed by them are masterpieces of erotic art. Dita von Teese and Pamela Anderson danced here, forever inscribing their names in the honorary list of the stable of Alain Bernardin, who in 1951 ventured to bet on beauty.
In Venetian traditions
The cabaret of Paris, where they first thought of feeding guests a dinner before the show, was a huge success at the beginning of the twentieth century. The public liked the innovation so much that the "dinner + show" format was immediately copied by many self-respecting establishments around the world. And the cabaret "Lido" on the Champs Elysees, 116 still remains unique and unique, like the beach in Venice, after which it was once named.
The highlight of this cabaret in Paris is its girls. Lido dancers carry the sweet nickname Bluebell, and the founder of the show, the unforgettable Margaret Kelly, personally selected the applicants until the last day of her life. Blue eyes of lovely bells and amazing special effects during the show will never let the bright star Le Lido fade away on the skyline of Parisian casinos..
Photos