Paris metro: map, photo, description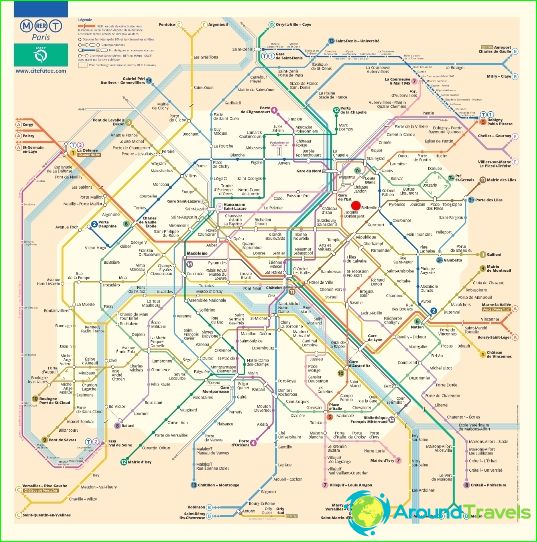 Paris metro map
The Paris metro is one of the oldest in the world, its history begins in the middle of the nineteenth century, when the city authorities thought about solving the transport problem of Paris, whose roads were clogged with land transport. Following London, the Parisians began to develop a project to create an underground railway network, but it took half a century to implement the plans - their implementation was facilitated by the 1900 World's Fair, which consolidated all the city's resources. On March 30, 1898, the French government passed a law on the construction of 6 lines of the Paris metro. Thus, the Parisian metro became the fourth constructed subway (the second on the mainland), having ceded seniority to London, Budapest and Glasgow.
Paris metro lines
The opening of the first line took place on July 19, 1900, and by the beginning of World War II, the system consisted of 14 lines (159 km and 332 stations). After the war, the development of the metro stopped, but in the 70s its lines went beyond the city limits. In 1998, with the opening of line 14. operated by driverless trains, the Paris metro entered a new era - an era of complete automation. Currently, the metro of the French capital is the second busiest in Europe, its system covers Paris and the suburbs: the length of the tracks is 220 km, 303 stations (including 62 interchange stations) on 14 main lines and 2 short ones. Only 21 Paris metro stations are located on the surface (mainly on line 6).
The Paris metro system integrates the Ile-de-France Express Network (RER), a commuter train system that has general transport tickets within the city boundaries, valid not only on the metro, but also on ground transport.
Paris metro tickets
Tickets are sold at vending machines and at ticket offices in station lobbies. In addition to single tickets, a contactless rechargeable NaviGo card is offered, which is also valid on all types of public transport.
On most trains, doors are only opened by pressing the door opener button or using a lever. Some carriages do not have an electronic board indicating the stations. However, everywhere - both at stations and in carriages, there are metro maps and signs for exits, respectively..
The Paris subway has stations that do not serve passengers. Some of them were closed at the beginning of the Second World War, others - the Port of Molitor / Murat and Axo (Haxo) were built, but not put into operation. Having no exits to the surface, they are accessible only during excursions conducted. They do not even have exits to the outside. They can only be seen on special flights, sometimes organized by the Paris public transport department..
Photos of the Paris metro