Carnival Museum in Paris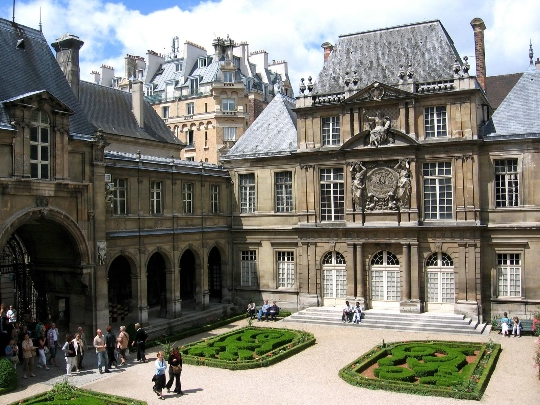 This museum is one of the most visited in the French capital. It is dedicated to the history of the city and is located in its historical part - the Mare quarter. Once there was a swampy outskirts, where even the poor did not settle due to the high humidity and the inability to build houses. But in the XIII century, the Knights Templar took up the drainage of the area, and soon the area became quite suitable for life. It was chosen by wealthy people who erected luxurious Renaissance mansions in Mare in the 16th-17th centuries. One of them later became the Carnavale Museum in Paris..
History of a beautiful city
Another name for this popular tourist site is the Museum of the History of Paris. Its exposition presents more than two and a half thousand paintings and about three hundred thousand engravings telling about the past and present of one of the most beautiful cities in the world..
The Mansion of the Carnavale Museum itself is the most important attraction, and the history of its appearance in the Marais quarter is interesting and fascinating. The building was erected by Pierre Lescaut, a famous Parisian architect. Date of construction - the middle of the XVI century. A couple of decades later, the house was bought by a wealthy widow from Brittany, whose name was Françoise de Kernevenois. It was her distorted surname that gave the name to the Carnaval Museum in Paris..
Queen of the epistolary genre
A hundred years later, the famous Parisian writer Marquis de Sevigne became the owner of the luxurious mansion. She is the author of Letters, the first and most famous French novel in the epistolary genre. Born Marie de Rabutin-Chantal, she suffered greatly in separation from her daughter, who was married in Provence. It was the letters to her that formed the basis of the book..
In her letters, Marie told her daughter the secular news, the latest gossip, and talked about political topics. Her messages can rightfully be called a chronicle of those years. By the way, it was the Marquis de Sevigne who gave the world the aphorism "The more I get to know people, the more I love dogs", rephrased many times by Heinrich Heine and Bernard Shaw. Portrait of the writer by Claude Lefebvre adorns the Carnaval Museum in Paris.
Useful little things

St-Paul is the closest metro station to the Musée Carnavalet, located at 23, 29 rue de S vign, 75004 Paris,
The museum opens at 10 am and receives the last visitor at 5.15 pm. The exposition is open from Tuesday to Sunday, closing only on Monday.
The entrance to the Musée Carnavalet in Paris is free. You will have to buy tickets only if a "foreign" temporary exhibition is being exhibited in its halls.
Taking pictures in the halls of the museum is allowed without a flash.
Photos