Seine embankments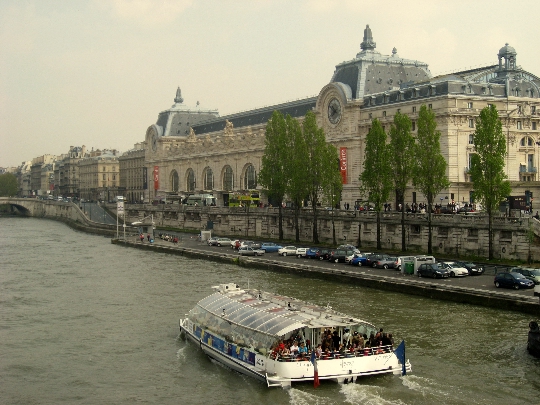 Parisians call their main river a workhorse. The river port of Paris today ranks second in terms of passenger and freight traffic in Europe, and once it was the Seine that was the main transport artery of the French capital. Timber and stone were transported along the river for building houses, sacks of grain and cattle were transported. For today's travelers, the embankments of the Seine are a great opportunity to admire the city, arrange a romantic date or take a ride on the river tram.
Hay in numbers

The length of the river within the city is more than 12 kilometers, the banks of each of which are rich in historical and architectural monuments. The depth of the Seine ranges from 4 meters at the Nacional bridge to 5.5 at the Mirabeau bridge.
The narrowest point on the Seine is located on the Montebello embankment - only 30 meters. But at the Grenelle bridge, the Parisian waterway spilled as much as 200 meters.
The speed of the river along the embankments of the Seine is about two kilometers per hour, and the average temperature of its water is about 14 degrees.
From Notre Dame Cathedral to the Eiffel Tower
The Seine embankments are an endless number of tourist routes, each of which is unique and interesting. For example, in Bercy, dance marathons are organized in the evenings, where everyone can demonstrate their skills. The preferred genre is tango and salsa. On the embankment of the Seine, named after Georges Pompidou, a beach is opened in summer, where it is pleasant to bask in the hot Parisian sun before dinner in one of the outdoor cafes overlooking the water.
A popular hiking route for all guests is a walk along the Seine embankments from the immortal masterpiece of the Eiffel to Notre Dame Cathedral. On the way, many magnificent pictures open up to the eye: House of Invalides - an architectural monument of world importance; one of the most beautiful bridges on the planet, named after the Russian Tsar Alexander III; the majestic Bourbon Palace; the Orsay museum and, finally, Notre Dame - a masterpiece of medieval Gothic.
Deserved recognition
In 1991, the authoritative organization UNESCO included the Parisian Seine embankments in the lists of the World Cultural Heritage, and the city hall closed the high-speed highway along the river. Once on this road it was possible to quickly cross the city through and through, but now the infrastructure of the pedestrian zone is developing here, and soon the embankments of the Seine will become even more pleasant for leisurely walks.
Photos