Where to eat in Berlin?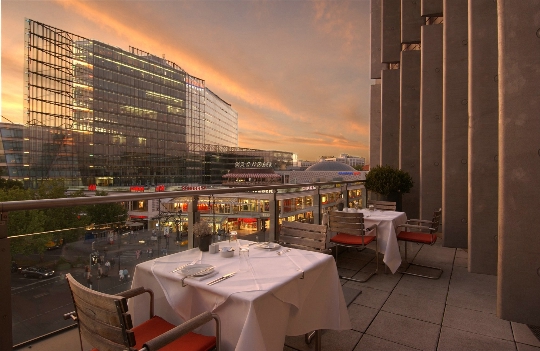 Are you going to relax in the German capital? Surely, you will be interested in information about where to eat in Berlin. The city offers not only authentic cafes and restaurants, but also Indian and Chinese eateries, tents with Turkish kebabs. In local establishments you can taste pork knuckle, pea pudding, sauerkraut, sausages with a spicy curry sauce.
Where to eat in Berlin cheap?
You can eat tasty and inexpensive food in numerous cafes called "imbis" on Alexanderplatz or Friedrichstrasse (on average, lunch in such establishments will cost 10 euros).
It is worth going to Morgenland - here you can enjoy fresh buns, yogurt, fruit, coffee (brunch costs about 10 euros, and lunch with wine - 12-15 euros).
Or you can go to a German restaurant "Zur nolle" with tasty and inexpensive food (here you will pay about 20 euros for the first, side dish and dessert). You should definitely try pork schnitzel with mushrooms and apple strudel in this place..
Where to eat in Berlin delicious?

Gaffel Haus Berlin: In this restaurant you can enjoy real German schnitzel, delicious potato salad and wash it all down with local beer.
Lowenbrau am Gedarmenmarkt: In this typically German place, guests can enjoy a Lowenbrau beer, accompanied by salty pretzels or sausages.
Don Camillo: in this Italian restaurant you can not only taste pasta that costs no more than 15 euros, and meat and fish for 20-30 euros, but also find out what the ordered dish is made of (the waiters will be happy to tell you about this). In addition, some dishes are prepared right in front of the guests..
Juleps New York Bar & Restaurant: in this institution you will be offered to taste American cuisine - steaks, fajitas, pork ribs, burgers. IN "happy hours" (every day from 17: 00-20: 00) you can order excellent cocktails here (price - 5 euros).
Prater: This garden restaurant (open from April to September) offers cutlets, goose, schnitzel, pork steak, beer at fairly reasonable prices.

Gastronomic tours in Berlin
If you want to dine in accordance with the best medieval traditions, head to the fortress located in the Spandau district.
If you want to try different beers and learn about the secrets of brewing, you should go on a tour of the Berlin brewery.
In Berlin, you will have the opportunity to go on a culinary journey, moving from one restaurant to another, offering their visitors to taste dishes of German, French, Turkish, Italian and other cuisines. In addition, such an excursion also involves acquaintance with the culture and architecture of the Kreuzberg, Friedrishain or Schöneberg districts..
Berlin will delight you not only with restaurants, but also with bars of different themes and atmospheres - there are both cocktail bars and trendy establishments that can satisfy the most sophisticated tastes of travelers..
Photos