Airport in Frankfurt am Main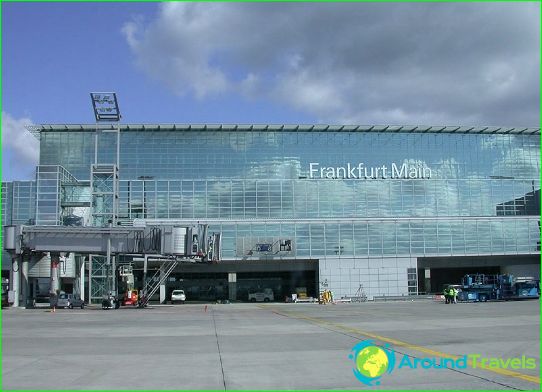 The largest airport in Germany and one of the largest in Europe is located in Frankfurt, its name is Frankfurt am Main Airport. Another name is also popular - Rhine-Main airport. It is located about 12 kilometers southwest of the city..
The airport is the absolute leader in terms of passenger traffic in Germany and ranks third in Europe, behind Heathrow (London) and Charles de Gaulle (Paris) airports. In addition, in terms of the annual volume of cargo transported, the airport takes the 2nd place in Europe, behind the above-mentioned Paris airport..
The airport in Frankfurt am Main is the first to begin automatic baggage sorting.
Rhine-Main Airport cooperates with more than 60 airlines and is an excellent transit point due to its favorable geographic location.
It should be noted that since the end of 2011 from 00:00 to 05:00 all flights over Frankfurt are prohibited..
Terminals
The airport has 2 common terminals and one for VIP passengers. Transportation between the terminals is carried out by a free shuttle bus and a skyline train. Bus stops are located at the parking lot, the interval is 10 minutes. Train stops are located in both terminals, on the fourth floor.
Services
The main range of services is located in the first terminal. Everything a passenger might need is here.
For those who are hungry, there are cafes and restaurants on the territory of the terminal. Large area of ​​Duty-free shops.
If necessary, you can buy some medicines at the pharmacy or ask for help at the first-aid post..
In addition, the passenger can use the services of a bank, ATMs, post office, telephone machines, etc. There are Wi-Fi zones on the territory of the terminals, as well as special machines with Internet access..
How to get there
The airport in Frankfurt am Main is connected to the city by three autobahns - A5, A3 and A67. There are several ways to get to the city:
Rent a car - companies that provide cars for rent operate on the territory of the terminals.
Bus - travel time will be about an hour and a half, ticket price will be 12 euros.
Train - there are railway stations right in the terminals. One train goes to Frankfurt, and the other to nearby cities.
Taxi - the cost of a trip to the city center will be around 30 euros.
Photos Frankfurt am Main airport