Shops and shopping centers in Dresden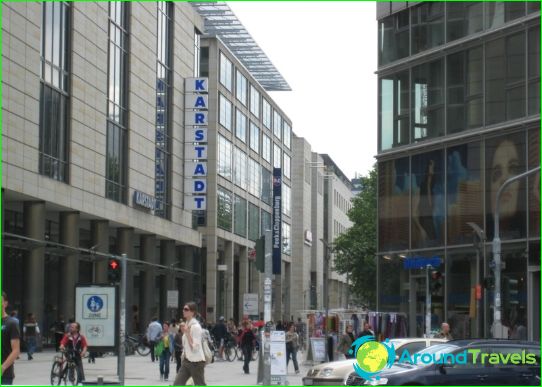 Dresden, with the light hand of the German art historian Herder, is called «Florence on the Elbe» due to its riverside location, Baroque architecture and collections of art treasures comparable to those of Florentine. But it is not only the historical and cultural splendor that attracts many guests to Dresden. Tourists appreciate the abundance of shops with low prices, and during the seasonal sales, the city is filled with shopaholics from different countries, who come solely for the sake of shopping..
Popular shopping spots

Prazhskaya street, which starts right from the train station and stretches to the city center, is Dresden's main shopping route and will suit any wallet. Of course, the best prices are during the sales season. This is a street of fashionable boutiques, shopping centers, antique shops, restaurants. All this splendor is located on both sides of the street and resembles one huge shopping center. The largest stores: «Centrum Gallery», «Karstadt» and «Altmarkt-Galeri». Instead of taking a deep breath, you can have a cup of coffee in Vienna Square - and shopping. After the Anglo-American bombing, the street had to be rebuilt, so while jogging you will have to admire the architecture of the socialist period.
Hauptstrasse is a beautiful cobbled pedestrian street with baroque architecture that connects the Neustadte Markt (New Town Market) and one of the most beautiful squares, the Albertplatz. That is, it connects the Old and New Towns. On the street a must visit «Craftsmen's Passage», where you can not only buy items of folk art, but also personally observe how they are made. Especially worth a visit if you are walking with children. On the Hauptstrasse itself, shops are quite expensive, but the small streets nearby are attractive for their antique shops, souvenir shops, green parks and quiet cafes..
«Passage of art courtyards» - these are five courtyards between Gerlitzerstrasse and Alaunstrasse, connected by a gallery. Each of these once ordinary city courtyards is decorated in its own original style: the Courtyard of the Elements, which becomes especially interesting during the rain, the Courtyard of fairy-tale characters, the Courtyard of Transformations, etc. The purpose of their creation was either the desire to turn boring courtyards into art objects, or combine place of residence and work. These tasks have been successfully solved; numerous tourists are happy to visit original shops and cafes under a transparent roof. Here they sell paintings, handmade jewelry, designer leather goods.
The Pfund Dairy is more of a museum of decoration and dairy products, although no one will bother you to buy cottage cheese or milk. The store has been known for over a century as the most beautiful dairy. The design is based on hand-painted majolica tiles. Look for him on Bautzner Strasse.
Photos of Dresden shops